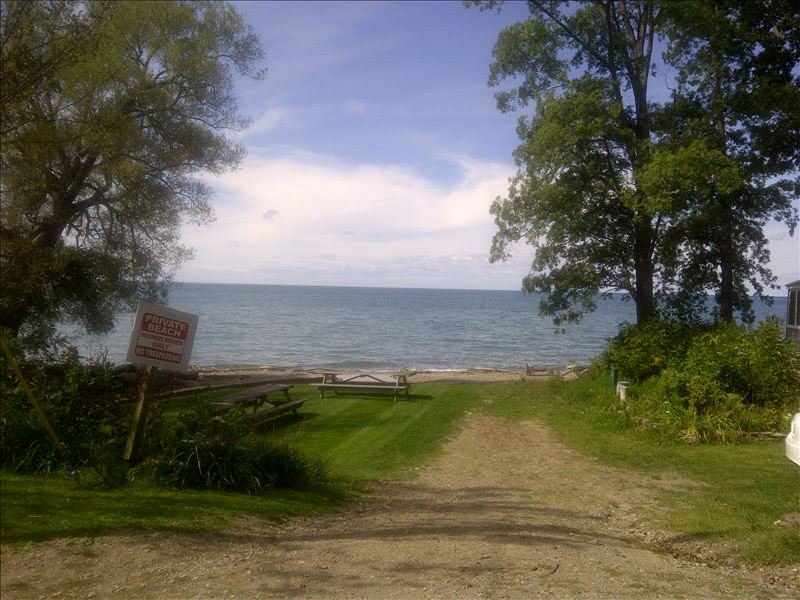 Updated:  March 1, 2019
If you find yourself searching for a Lake Erie cabin rental, you may be my kindred spirit. Perhaps you grew up near Erie, Pennsylvania in the 1960s and 70s and then moved away. Now you long to share those same experiences with your loved ones. I get you — because I moved away for 20 years and then came back to raise my children. The good news is you can come back and enjoy the best parts of cabin living and share those childhood experiences — without roughing it — in a fully modern vacation rental home.
My fondest childhood memories come from a summer cabin and outdoor living along Pennsylvania's Lake Erie shore in North East, PA and from Presque Isle State Park in Erie, PA. Perhaps that's why I dream of re-creating many of the simple cabin routines I enjoyed as a child. What I appreciate now are the well-documented physical and mental health benefits of being near water and in nature. That didn't matter back then. The rustic, simpler way of living was magical to me.
The Art of Lake Erie Cabin Living
It took me many years to perfect the art of cabin living. But I had time. I had all the natural resources and none of the distractions like video games, cell phones, DVD players, or dozens of TV channels. We didn't need money or have technology back in the 1970s — we made our fun. We used what was around, sprinkled with a little ingenuity and lots of trial and error. Many years of scouting and camping also honed my outdoor skills.
Roughing It
During my childhood, the cottages in our area didn't have city water. We brought water. Our outdoor hand washing station consisted of a gallon jug of water that hung from a tree. A stick plugged the hole in the jug and served as the stopper for the flow of water. A bar of soap hung right next to the water jug, suspended in the foot of a nylon hose. We didn't have showers. Nor speedboats nor jet skis.
Searching For Treasure
Summer days consisted of hours of floating on rafts and walking the beach for hours, combing for treasures. Beach glass and china were my favorite finds — and still are. Each piece of beach glass was — and still is — a thrill to find. Even the most common Lake Erie glass colors — brown, green and white — are a thrill to find. Aqua and cobalt, less common but not rare, up the excitement. Other colors, like red and yellow, are the equivalent of winning the beach glass lottery — a once every few years occasion.
My mind wanders when I scan the shore for treasures. I wonder where the well-worn china pieces came from. I know Lake Erie with her quick temper has buried many ships. I also know about several documented shipwrecks nearby. Did the china come from a shipwreck? I'm satisfied with that explanation.
"Lake Erie is the most treacherous of the Great Lakes because of its unpredictable weather, shallow depth and sandbars. No one knows exactly how many shipwrecks are hidden beneath the surface, but experts guess Erie might cover about 2,000 of about 8,000 wrecks in the Great Lakes," according to Laura Johnston of www.Rock the Lake.com.
Creating Adventure
The creek in our neighborhood was another source of adventure. The "tarzan rope" suspended over the creek provided endless hours of entertainment and at least one spectacular fall. Catching minnows and crayfish in the creek was another challenge. Finally, I'm proud to say we painted beach stones — lots of beach stones — decades before the whole "stone painting" movement was trendy.
Winding Down To Sunset
After a day of creating our own fun, daytime turned into evening and the beach routine continued:
gathering driftwood from the shore and building a teepee-like structure for our evening campfire
finding and carving the perfect roasting stick
roasting marshmallows and sometimes hot dogs
skipping stones
swimming
All the while, we anticipate and then watch the beautiful Lake Erie sunsets. After the sun sets behind the horizon, the colors of the afterglow continue and eventually fade until the skies are dark. We sit around the camp fire on large driftwood logs and the conversation ultimately turns to story telling. Some familiar stories, some new. Mischief is a common theme among the stories. It never gets old hearing about the unbelievable antics of my father and his best friend as teenagers.
Blending Comfort With Cabin Living
While I still enjoy many of routines of cabin living, there are some I don't miss. For example, as I child, I slept through hot summer nights without air conditioning on hard floors or in a sleeping bag. As an adult, I want air conditioning and a bed. And, I do enjoy modern conveniences like running water, an ice maker, dishwasher, washer and dryer, which all free up more time to enjoy my summers outdoors. The rental cottages I offer today in North East, PA are upgraded to blend the benefits of modern day living with beach life, sunsets, camp fires, and nature that I've always enjoyed.
Come Back:  Cabin Rentals In Erie, PA
Today, you can find many types lodging accommodations from simple camping to the "glamping" — more glamorous cabin rentals or vacation rentals around Erie, PA. Whatever your style, come back and relive your childhood memories at the beach. If you are looking for upscale cottages that are well-stocked so that you don't have to pack your "whole house," my cottages offer the comforts of home — air conditioning, dishwasher, washer, dryer, gas grill, bedding, towels, pots, pans, dishes, toilet paper, dish detergent and much more — in a setting that allows you to enjoy Lake Erie life. If you are looking for something more rustic, try www.visiterie.com for more options.
For questions about visiting Erie, PA, North East, PA, or Lake Erie Wine Country, of Clement's Lake Erie Cottages, please email me at [email protected]. Read about free things to do in the Erie area or fun family activities in Lake Erie Wine Country And, tell me, what are YOUR fondest memories of growing up around Lake Erie? Please leave a comment.