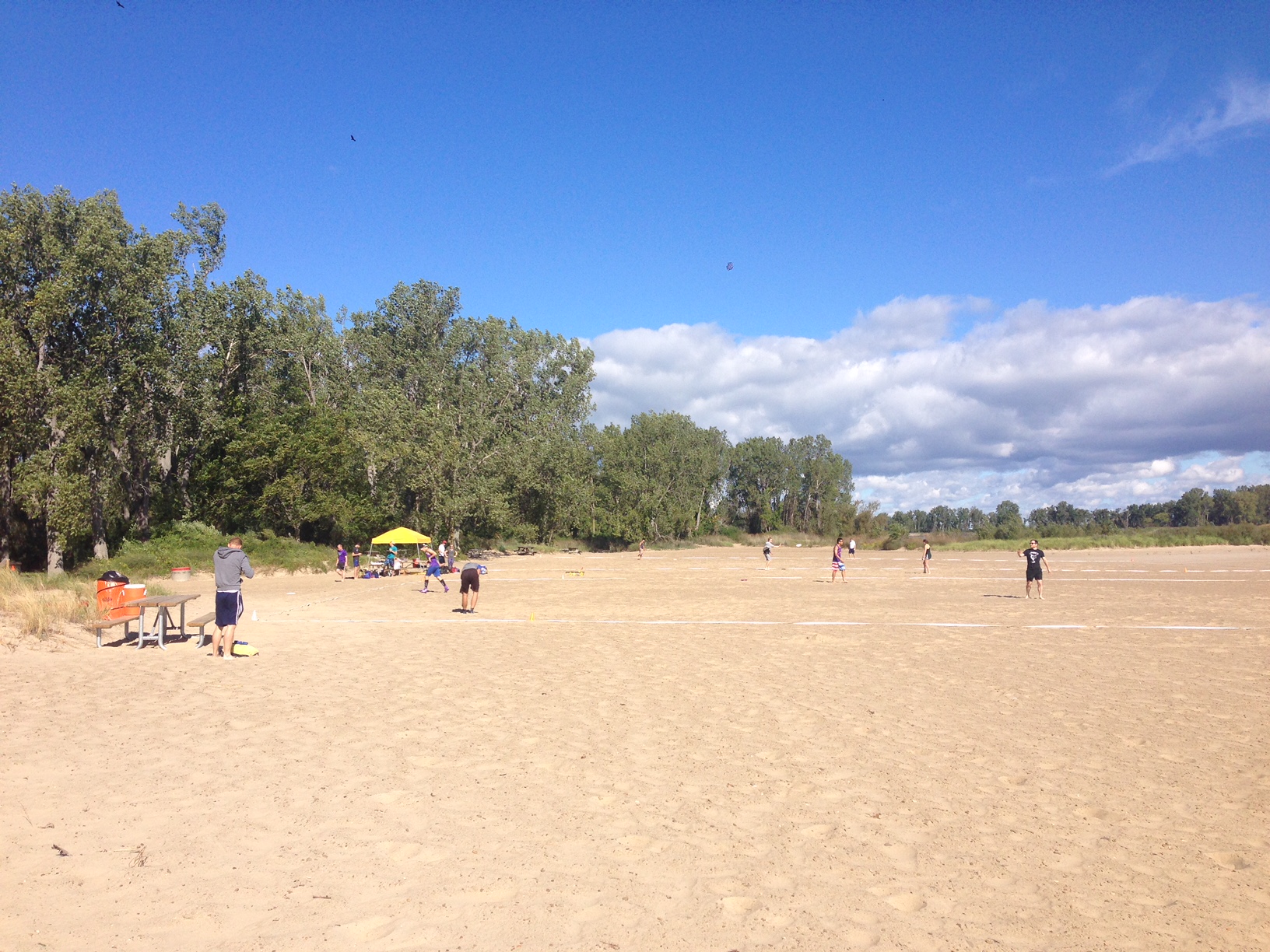 Updated August 30, 2023
Looking for free things to do in Erie, PA?
Whether you're planning a vacation or a staycation, a visit to Erie, PA can be fun and easy on the budget. Learn my insider scoop about the free activities around the Erie area. Be sure to read the details. Some of the free activities such as the Erie Zoo and Bicentennial Tower are offered on specific days.
Most of these free activities are either educational or nature-themed, but also fun. Perhaps best of all, when you spend some time unplugged and enjoying the outdoors — you'll not only feel better mentally and physically, but your pocketbook will benefit too!
Please check ahead to confirm hours or operating changes. 
1. Presque Isle State Park
Pennsylvania's most popular state park is a 7 mile long peninsula connected to Erie. It's a year round outdoor-lover's paradise that can be enjoyed simply as a scenic drive or actively with a day full of activities. While this state park is best known for its miles of sandy beaches — rated #1 in a USA Today poll for "best freshwater beaches" — there is so much more to do than "beaching."

With free admission and plenty of free parking throughout the Park, you can enjoy the activities of Presque Isle State Park often throughout the year.
How do you pronounce Presque Isle?
If you're wondering how to pronounce Presque Isle, it's a lot easier than it looks. Presque is pronounced "presk" (rhymes with "desk"). Isle rhymes with "pile."  Or, be like a local and call it "the peninsula."  
How to Enjoy The Trails Of Presque Isle State Park
Miles of paved trails around the park create a flat pathway with beautiful scenery for walking, jogging, rollerblading, cycling, or skateboarding. If you like to bike, rollerblade, or skateboard, bring your equipment. (While you can rent bicycles and surreys inside the Park, that obviously would not be free.)
Interior woodland trails offer interesting hikes, nature walks, bird watching, snowshoeing, and cross-country skiing.
Where To Kayak at Presque Isle
A calm, man-made, interior waterway called "the Lagoons" is popular with locals for fishing, kayaking, and canoeing. Most visitors to Presque Isle State Park never even hear about this area of the Park. You'll find "The Lagoons" entrance just past the Perry Monument where you will see signs for canoe and kayak rentals. If you have a kayak, the Lagoons is an amazing place to use it because of the flat water and the variety of plants and wildlife you can see.
My first kayaking experience was here in the Lagoons. I rented a kayak just to make sure I loved kayaking enough to purchase a kayak. Afterward, I was hooked and I bought a kayak. Some kayaks are specially equipped for fishing.  The Lagoons is also a great place to fish from non-motorized small craft.
How To Enjoy Driving Around Presque Isle State Park
A drive around is the Park is a beautiful way to experience nature in all four seasons.  But be aware of the speed limit. The 25 miles per hour speed limit in the Park is strictly enforced.  It's easy to get distracted by the stunning sights and lose track of your speed.  So set your cruise control if you must, and allow for adequate time for a slow drive. 
A few of my favorite scenes are: the house boats at Horseshoe Pond, the Perry Monument landmark, the lighthouses, and marinas.
If you enjoy history, read up on how this area was involved in the War of 1812 and find out who the Perry Monument is named after. Also, learn how Misery Bay earned its name. These are all good questions for schoolchildren if you want to throw in a little education during your drive here.
You will see many beautiful views of Presque Isle Bay and Lake Erie.  If you want to see deer and other wildlife, a drive through the Park at dawn or dusk is when they are most active.  You can even shine a spotlight from your car at dusk to help spot the "eyes" of the many creatures around the Park.  In the evening, enjoy watching Erie's famous sunsets over Lake Erie from your car or from the beach.  You'll want to be on the lake side of the peninsula (i.e., not the bay side) for the best sunset viewing so you can see the sun dip into the horizon.  Beach 1 is near the entrance to the Park if you are short on time and want to catch the sunset.  
What To Pack For A Presque Isle Beach Day
A little pre-planning can make your beach day significantly more enjoyable.

Eating at the beach can be a fun and memorable part of your day — and will cost less than eating out. Your family will be having so much fun, you will not want to leave in search of food or drinks. A meal can be as simple as sandwiches, chips, and drinks.  For a simple beach meal, bring this:  
Cooler
Ice
Beverages
Sandwiches
Chips
Or, try my family's favorite beach meal of hamburgers and Smith's hot dogs cooked on a charcoal grill.  Charcoal grills are abundant and easy to find throughout the Park. When you arrive at the beach, pick a location near a grill and picnic table to make cooking and eating convenient.
To cook at the beach, here is what to pack:
Cooler
Ice
Beverages
Self-lighting charcoal
Matches or a lighter stick
Metal spatula
Aluminum foil for the grill
Burgers and hot dogs, buns, condiments, a favorite side dish or two, chips
Garbage bag to collect your trash
Paper plates, eating utensils, paper towels
If you don't have time to shop and pack before your visit, two convenient shops are located near the entrance of the Park: Sheetz (750 Peninsula Drive, Erie, PA) and Bello's Market (a small grocery store in the Colony Plaza on West 8th Street).

For your beach enjoyment, here is what to pack:  
Beach umbrella if you plan to use one. To my knowledge, there is no place to rent a beach umbrella at the Park.
Towels. You'll want towels both for drying off after a swim and for brushing off sand before you get back into your car.
Beach chairs, camp chairs, or a beach blanket
Sand or beach toys for the kiddos and kids at heart. Are you ever too old to build a sand castle complete with a moat?  TIP:  Watch a few Youtube videos to sharpen your sand castle building techniques. Presque Isle beaches have ample amounts of sand for castle making.
Older kids and adults may enjoy water floats, boogie boards, frisbees, a football, soccer ball, volleyball, Kan Jam or other yard games. My teenage and young adult children LOVE Spike Ball at the beach.
Sunscreen, sunglasses, and a hat for sun protection
      Finding Your Way Around Presque Isle State Park
This map of Presque Isle State Park can help you find the various landmarks, activities, and beaches.  
2. Lagoon by Pontoon Ride
Discover the natural history and beauty of the Lagoons at Presque Isle State Park by pontoon. These free rides run during the summer season.  Sign-ups are 15 minutes prior to the ride time at the Pontoon Station (next to Lagoon boat launch) on a first-come, first serve basis.  This program is subject to modification or cancellation, and sign-up procedures may change so be sure to call ahead and verify any details through the Tom Ridge Environmental Center, (814) 833-7424.  Verify all information about the Lagoon by Pontoon Ride.
3. Bicentennial Tower
One of the best views of Erie is from the top of Erie's iconic Bicentennial Tower at Dobbin's Landing in the city of Erie.

From the top of the lookout tower — 138 feet above the bay — you can view the city of Erie, Erie's bay front, and Presque Isle State Park.
On most days, the cost to ride an elevator to the top of the Tower is $6 (as of 2023).  Free dates for 2023 are offered on the first Tuesday of each month from May through September.  Verify free dates and hours of operation.   From October through April, the Tower is open only on Fridays and Saturdays.  

Insider Tip:  Coin-operated Tower viewers are available at the top of the Tower. If you want a telescopic view, bring a few quarters with you to use the viewers.
Insider Tip:  You will be outdoors at the top of the Tower. It can be windier at the top of the Tower than at the bottom.  So dress appropriately.
TREC is fun and educational museum-like center, with both indoor exhibits and events and outdoor events. Outdoor events vary by season and can include ice fishing or cast iron cooking. Examples of indoor events include a Great Lakes Shipwreck exhibit or a fireside chat about local critters of Presque Isle State Park.
Visitors can climb the stairs to the top of the Tower for a stunning 360 degree view that includes Lake Erie and Waldameer Amusement Park & Water World.
Parking and admission are free. Plan to spend about one hour at TREC (not including a movie).  TREC is a great rainy day back-up plan.
Movies on the green screen are not included in the free general admission. The movies shown at TREC are many of the same titles shown at IMAX movie theaters and are educational, interesting and reasonably priced, but not free.
5. Live Outdoor Concerts
Free outdoor concerts are offered several days per week in the Erie area in the summer.
The UPMC Sunset Music Series at Presque Isle State Park is on Mondays at Beach 1.
"8 Great Tuesdays" features live music at the Amphitheater at Liberty Park along downtown Erie's bayfront for eight Tuesday evenings during the summer.
Traffic can be quite congested during the above events.  Plan accordingly.  Shuttles are available.  Bring camp chairs or a blanket to sit.

In North East, PA, Erie's Wine Country, several wineries host free outdoor concerts in the summer. The Penn Shore Winery outdoor concert series is offered in July and August on Saturday evenings. Arundel Cellars live music events run throughout the year.  
Parking and congestion are not a problem for the North East concerts.
North East, PA is about 18 miles east of downtown Erie, PA. It's the heart of Pennsylvania's Lake Erie Wine Country.
6. Erie Zoo Free Hours On Sunday 3-5pm
The Erie Zoo offers free admission for 2 hours each Sunday from 3-5pm during the Zoo's open season. Parking is also free.  Note, the Erie Zoo closes for the winter months.
7. Liberty Park Playground
If you are enjoying a day in downtown Erie near the bayfront, the Liberty Park Playground is a great way to allow the kids to expend some energy. The address is 200 Lawrence Pier, Erie, PA  16507.
8. Asbury Woods Nature Center
Asbury Woods offers a small indoor nature center, an outdoor play area for young children, and a system of outdoor trails for walking, hiking, snowshoeing or cross-country skiing. Whether you prefer scenic a wooded walk, or a 1/3 mile boardwalk, a GPS/Orienteering course, a 5K cross-country course or a ski and snowshoe trail, at Asbury Woods, nature can be enjoyed year round.
9. Picnic In The Park, North East, Pennsylvania
In the summer on Thursdays, the popular Picnic in the Park event is offered by the North East Arts Council from 11:30am – 1pm from mid-June through mid-August (except July 4). Each event includes free live family entertainment.
Pack a lunch, bring a picnic blanket, and enjoy a fun family event beneath the beautiful shade trees of Gibson Park in the heart of North East, PA.  
10. Lake Erie Beach Glass and Treasure Hunting 
Treasure hunting along the Lake Erie shoreline is fun for school ages and up. Lake Erie is known for its beautiful beach glass. Some people enjoy finding colorful beach pebbles, driftwood, or even the lucky stones (otoliths) that come from freshwater fish.
11. Fishing Lake Erie
Lake Erie is a year round world class fishing destination for many anglers. You can cast a line in many places from one end of the Pennsylvania coast near Ohio to the New York border. While fishing is free for those under age 16, all persons age 16 and older are required to have a fishing license. Pennsylvania fishing licenses can be purchased online.  
12. Lake Shore Railway Museum Free Admission
Train lovers will enjoy a visit to the Lake Shore Railway Museum in North East, PA.  While admission is free, donations are appreciated.
13. Free Doggie Ice Cream Treat Everyday
The Straw Hat Sundae Shop in North East, PA offers free ice cream treats for dogs everyday, year round. The Straw Hat serves Penn State Creamery Ice Cream, Perry's ice cream, soft serve, root beer floats, banana splits, and much more!  Discover more dog-friendly places.
14. Shades Beach 
Shades Beach is a public Lake Erie beach located in Harborcreek, just east of Erie, where you can enjoy a shaded children's playground, beach area, picnic grounds, and a boat launch.  
15. Freeport Beach
Freeport Beach is a public Lake Erie beach located east of Erie in North
East, PA. Teens and adults can have fun on the sand volleyball court while children can use the beach playground.  In addition, public restrooms and lifeguards are provided during the summer months. Freeport Beach typically gets sand replenishment and tends to be a sandy beach.
16. Fisherman's Beach/20 Mile Beach
Also in North East, PA, Fisherman's Beach is a public beach where dogs are permitted on leash. This beach is not well marked on maps. The entrance is off of north side of Route 5 at Conservation Park, which is also the access for fishing 20 Mile Creek. The parking lot is just west of 20 Mile Creek. The lot leads to a paved trail that you have to walk on foot north to the beach. Your dog will love it!
17. Grape Discovery Center, Westfield, NY
The Grape Discovery Center is a perfect place for families to visit. Learn about more than 150 years of grape growing history through stories and interactive displays.  You can also taste local wines and grape juice and shop in the gift shop.
Do you know of other free things to do around the Erie, PA area?  Please tell us by email at [email protected]!