Questions or reservations?  Text me at 814-566-4722 or email
[email protected]
LIKE our Facebook page for updates:  Clement's Lake Erie Cottages
SUMMER 2023 AVAILABILITY: 
Aug 13 – 26, 2023 – $265/night + $80 cleaning, 2 night minimum
Aug 29 – Sep 3, 2023 – $265/night + $80 cleaning, 2 night minimum
RATES:  
September-October 2023:  $250/night weekend, $200 weeknights, 2 night minimum
Nov 2023-April 2024:  $175 per night + $80 cleaning, 2 night min., request quote for longer stays
3 bedroom lake house rental with all the comforts of home — maybe even more!
30 yards from the Lake Erie shore, the second house from the lake, on a quiet road.  Lake view from the loft.  
Located in North East, PA, 18 miles east of downtown Erie.  We're in the heart of Lake Erie's Wine Country, a convenient location for winery events and tastings.  12 wineries within 8 miles. 
We offer the lakeshore, lake access, many wineries, a quaint downtown and world-class fishing from the North East Marina, Twenty Mile Creek and Sixteen Mile Creek. You'll notice a slower pace of life and a small-town atmosphere.  Plenty to do–but a welcome respite for city slickers.
SUMMER 2023
Our home offers a place where you can enjoy family time with yard games, board games, a campfire, s'mores, and a basketball hoop.  Swim in the lake, and bring floats, kayaks, or paddleboards.  Explore Presque Isle State Park, Waldameer Amusement Park & Water World, Wintergreen Gorge, or Panama Rocks for outdoor activities.     
LADIES GETAWAYS
We love ladies' getaway groups. Wineries are open for year-round tasting. Studio M (massages) and Bella Day Spa are just 3 miles (in North East, PA). Ask about private coffee mug or wine glass painting classes.  Learn how to plan a ladies' weekend getaway in Lake Erie Wine Country.
LAKE ERIE FISHING
Lake Erie is famous for its boating and fishing including walleye, lake trout, bass, perch, and steelhead.  We are located 1.4 miles from the North East Marina where you can rent a short-term boat slip or launch your trailered boat or jet ski.   We're also located between 16 Mile & 20 Mile Creeks where steelhead season is normally November through March.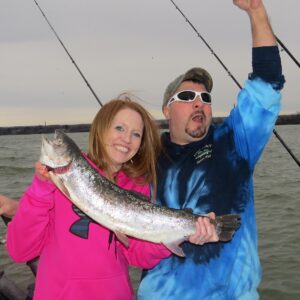 About Just Beachy Rental
Just Beachy is a completely renovated year-round home.
Larger groups can rent both vacation homes – see our other listing the Little Red Lake House. Our two vacation rentals are on the same quiet road — just 3 homes apart. Rent BOTH homes to accommodate up to 12 people.
3 bedrooms: 
Queen bed with TV, Full bed, 2 Twins, and Queen air mattress
1 bathroom
First floor: living area, kitchen, eating area, 3 bedrooms, bathroom with shower/tub.  While there is a loft living area, the house is fully livable on the first floor.
Kitchen: stainless appliances, large Thermador refrigerator and freezer with ice maker, dishwasher, gas range, oven, microwave, Keurig and carafe coffee makers, garbage disposal, blender, mixer, and crockpot.
Loft: a full staircase leads to a second living area with 55" smart TV with YouTube TV channels, a comfy sectional sofa, board games, and toys.  My kids always love hanging out and sleeping in the loft.
Central air conditioning and heat included.
Washer and dryer in the garage. The washer is 'winterized' from November through April, not used during those months.
The Property
Quiet road with only 12 homes with little traffic 
Easy access to private Woodmere Beach, an ungroomed stony beach, shared by Woodmere neighborhood residents + guests
Just Beachy Cottage is one house away from the beach entrance – 30 yards to the beach where you can swim, watch sunsets, launch a kayak 
Easy, walkable beach access – no bluff or cliff, or staircase to the beach
The concrete driveway in front of the garage accommodates up to four cars or a boat — or a game of pick-up basketball – hoop provided
House and garage sit on 2 lots with grassy areas for playing yard games
Fire pit in the backyard for small campfires in the evening/night
Creek runs behind the backyard to the lake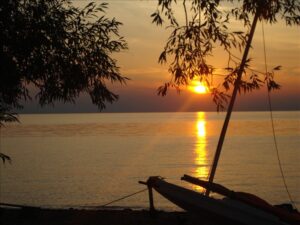 Launch your kayak or sailboard right from the beach about 30 yards away.  Or launch a jet ski or larger boat from the North East Marina, 1.4 miles east. Boats launched from the Marina can then be anchored in front of our beach, Woodmere Beach, during the day so you can come and go to the cottage.
Things To Do:  Cabin Life At Lake Erie
TOUR THE WINERIES OF LAKE ERIE WINE COUNTRY
We have an excellent location in the heart of the North East wineries.  If you are familiar with North East, we are located between Mazza Wineries and South Shore Wine Company in North East, Pennsylvania.  10 wineries are within 8 miles, including Penn Shore, Lakeview Wine Cellars, Mazza (North East, PA), South Shore Wine Company, Yori Wine Cellars, Courtyard Wineries, Presque Isle Wine Cellars, Arundel Cellars, Arrowhead, and Heritage Wine Cellars.  
ENJOY LAKE ERIE
Our cabins offer access to Woodmere Beach, a natural, ungroomed Lake Erie shoreline.  (If you want a groomed, sandy beach, this is not a good fit.  Our beach has a lot of beach stones.  Freeport Beach is a public beach just 1.25 miles west of us.
What you can do at Woodmere Beach:
sunset watching
swimming, floating
small beach campfires
roasting marshmallows
kayaking
picnicking
beach glass hunting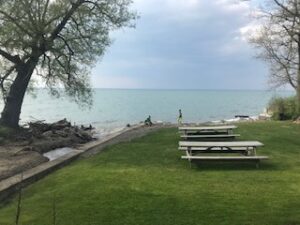 Head to the beach in the evenings with a cup of wine to view the sunset, a different show each evening. Some nights are cloudy with subtle color and some nights are brilliantly colorful.
Kids happily play at the shoreline, in the creek, in the lake and warm-up to the campfire as they make s'mores.  Hunt for treasures like beach glass, beach stones, driftwood, and other ordinary objects weathered to 'treasure-status' by water and time.
Bring your bikes. Kids can bike up and down our quiet street. Adults can be more adventurous and take advantage of longer bike rides as well. Cycling tours and maps available at Lake Country Bike in North East.
GO FISHING
Erie is a world-class fishing destination for boat fishing and stream fishing.  Lake Erie walleye are plentiful.  Bass, lake trout, steelhead, and perch are also popular with fishermen.
Learn more about walleye fishing charters
The Town of North East, PA
We are located 18 miles east of downtown Erie.  Our quaint Victorian shopping district of North East (3 miles) offers locally-owned businesses such as The Bean Coffee House, Studio M and Bella Salon and Day Spa (massages!), Skunk & Goat Tavern (formerly The Cork 1794), Yori Wine Cellars, and Michael's Italian Restaurant & Pizzeria.  Sander's Jubilee Grocery and CVS drug store are about 3.5 miles. During the summer and fall buy freshly picked produce at one of the many roadside farm stands.
Spring Events In Lake Erie Wine Country
Spring and fall are popular time for ladies getaways. Girlfriends, bachelorettes, moms, quilters, retreats, book clubs, scrapbookers, yogis, and crafters — we have hosted them all.  Ladies love us for our style, cleanliness, and the local wineries. The Skunk & Goat Tavern is a popular restaurant with our ladies groups.
Check out local event calendars of North East Chamber of Commerce and Lake Erie Wine Country.
Summer Events In Lake Erie Wine Country
Free outdoor concerts at local wineries.  Check Penn Shore, Arundel and Heritage Wineries for concert calendars.
"Thursdays in the Park" is a summertime family-friendly event featuring farmers' market and live family entertainment
North East Firemen's Cherry Festival and parade is mid-July
Fall Visits In Lake Erie Wine Country
Fall is a very popular time to visit. The grape harvest in September and October is hard to describe. The aroma of ripe grapes throughout our town is strongest in September when a simple drive through our area is a treat. In October the fall leaves reach their peak color. There is excitement in the air during this time and a buzz at the wineries, which are bustling with tasters. During the fall you can often see the grape-harvesting tractors in the vineyards from sun-up to sun-down. Lake Erie warms the nearby land and homes, adding a few degrees of warmth to the air.
The cooling weather of late October and into November signals the migration of steelhead (rainbow trout) back into their stream of origin for spawning. Visitors come from all over the world to fish the Lake Erie streams, including Walnut Creek and Elk Creek on the west side of Erie, and the Mile Creeks including 16 Mile and 20 Mile Creeks, both of which are within 2 miles of our rentals. The fishing season for steelhead generally runs from November through March, with November and March typically the most productive months in  "Steelhead Alley."  We welcome fishing groups and guided fishing tours.
Wine Fest  –  The biggest wine event in our area happens the last full weekend of September.  Three days of wine tasting, artisans, live music, food, and general merry-making.  A nice event for couples or friend groups.    
Fishing & Boat Parking
16 & 20 Mile Creeks are within 2 miles for great steelhead fishing in the streams November through March.
Walleye, perch, lake trout, and bass fishing are popular with boat fishermen locally. 2023 is another incredible year for walleye fishing.  Walleye fishermen were limiting out in record timing. Walleye fishing in our part of the lake is generally best in July, August, and September.
For charters, go to fishingbooker.com.  Pacifictime Sportfishing and Ditch Chicken Charters are recommended.  
The North East Marina, just 1.4 miles east of our rentals, offers reasonable daily rates for a slip rental and boat parking, plus bait and PA fishing licensing services. 
Lodging for Erie College Visits
If you need a homey place to stay while visiting Erie colleges or parent weekends, check us out.  We are also a popular place to stay for families for college graduations, sporting events, and move-in visits.
Contact Us to Learn More! Text me your questions: 814-566-4722.