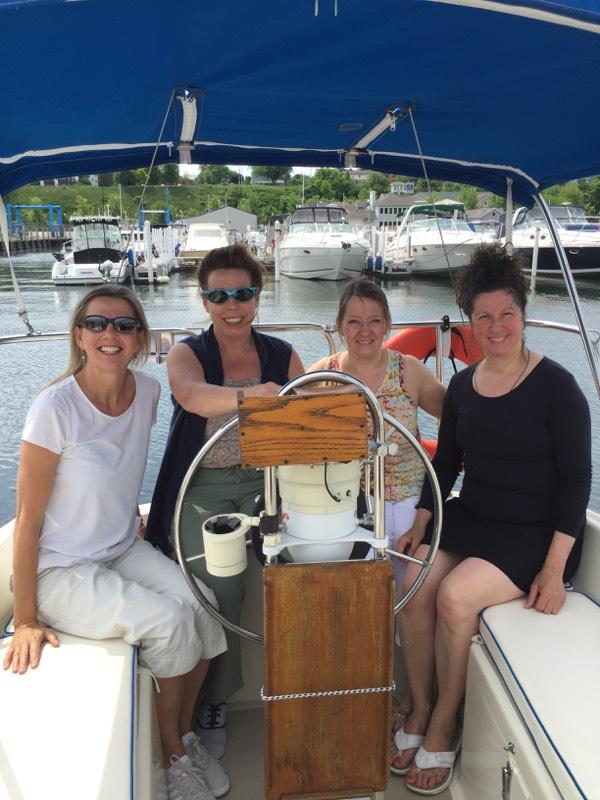 Looking to experience Lake Erie by sailboat? Your options include private or group charters, daytime or sunset sails, or even a "sail and anchor" for a concert option. I get really excited thinking about this because there is no place more beautiful in the summer than the lakefront of Erie, Pennsylvania AND these prices are crazy affordable!
PRIVATE SAILING CHARTERS, ERIE PA
If you are looking for a private sail with family or friends just for fun, sightseeing or a special occasion, a private charter is more affordable than you may think. Both of the options below will work with you to provide a custom experience for you.
Lake Effect Sailing
Captain Ed Garr of Lake Effect Sailing operates a 32 foot cutter, Namaste, for up to six people. Whether you want to relax, steer, or "learn the ropes," Captain Ed will tailor your sail to your needs. He also offers sailing lessons.
Captain Ed has hosted with many special occasions including engagement proposals, anniversary or birthday celebrations, and ladies outings. Tourists and locals are welcomed. The rate is $50 per hour with a 2 hour minimum. Folks, that's just $100 for a two-hour cruise for six people!
Learn more about Lake Effect Sailing.
Another Round Sailing
Captains Mike Gonzalez and Vito Randazzo invite groups of up to four people on their 28 foot sailboat, Another Round. Private sails are offered on Wednesdays and Saturdays by appointment. Whether you are looking for a sightseeing cruise, to celebrate a special occasion, or to entertain summer visitors, contact Captain Mike to reserve.
The rate is $40 per hour for a minimum of two hours and $20 for each additional hour.  At $80 for a two-hour cruise for four people, this is an affordable luxury. Three hours for $100 is an even better deal.  Learn more about Another Round Sailing.
GROUP SAILING CHARTERS, ERIE PA
Introducing…The Lettie G. Howard
Ready for adventure? A new option is available the summers of 2018 and 2019. The sailing vessel Lettie G. Howard will be in Erie, Pennsylvania on loan from the South Street Seaport Museum. Three sailing options are available:  a day sail, sunset sail, or "sail and anchor" near the "8 Great Tuesdays Concerts."
Rates for the 90 minute day sail are $15 per child (under 12 years) or $25 per adult.
The 120 minute "sunset sail" is $20 per child (under 12) or $35 per adult.
A four-hour "sail and anchor" option is offered on Tuesdays during the "8 Great Tuesdays Concert Series" at Liberty Park for $59 for ages 21+ only.
The Flagship Niagara League of Erie, PA is coordinating the loan of the Lettie G. Howard from the South Street Seaport Museum and providing an online availability calendar and booking.
The Flagship Niagara
The historical tall ship, the Brig Niagara, calls Erie home. When she's not touring the Great Lakes, she is available for day sails. If you love history, this is a great opportunity to learn about the Niagara's role in The Battle of Lake Erie, a pivotal battle in the War of 1812.
This is not a luxury cruise. But it is fascinating for history lovers.
A four-hour day sail is $85. Participants must be at least 12 years old. Due to limited available, the Niagara sells out quickly.
Learn more about day sails on the Flagship Niagara at www.flagshipniagara.org.
Do you know of any other sailboat charters in the Erie area?  If so, do let me know!