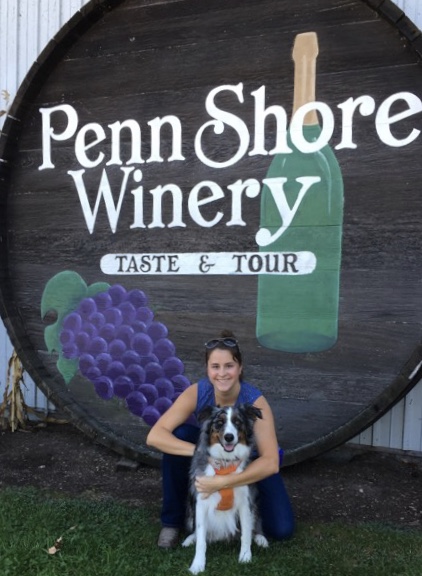 Ready to spice up your summer a bit? If you have never been to a Penn Shore Winery summer concert, take a moment now to put a few dates on your calendar. Then, as you are making summer plans with friends, you will have a brilliant idea to try! Experience an evening on the spacious lawn at the winery, surrounded by the vineyard, listening to one of Erie's favorite bands. When you get thirsty, just pop into the winery and buy a drink. Hungry? With the new kitchen at Penn Shore, food will be available.  Penn Shore Winery is located in North East, PA — just 14 miles east of downtown Erie. A different band and food truck are featured every Saturday in July and August from 5 to 9 pm.
Some people get up and dance. But many people just enjoy listening to the music in a beautiful setting.
Admission, parking, and the music are free.
You can purchase wine by the glass or bottle, wine slushies, and select local beer on-site to consume during the concerts. You can even take some bottles home! Remember to bring your favorite lawn or camp chair or blanket to enjoy the show! And, wear your dancing shoes or flip-flops — it's casual.
These concerts take me back to when I lived in the Chicago suburbs. A favorite summer event there was the outdoor concerts at the Ravinia Festival. Concert-goers would set up low profile tables on the lawn. The tables were the "tables in a bag" style, just high enough for you to sit on the ground on a blanket and place your food and drinks on the table. The Chicago people would get all fancy and set their tables with candles and an amazing spread of food. So, feel free to bring your table and candles if you want to bring your "fancyness" to North East.  Or, just keep it casual like we've been doing for many years.
PENN SHORE'S 2019 CONCERT SCHEDULE
July 6th – East Ave (Original Rock)
July 13th – Tennessee Back Porch
July 20st – Abbey Road (The Beatles)
July 27th –Familiar Spirit (Rhythm & Blues)
August 3th – The Rooftop Band Project (Jazzy Pop)
August 10th – The Goats (Classic Rock)
August 17th – The Screaming Ducks (Rock 'n Roll)
August 24th – Kevin Howard (Jazz)
August 31st – Duke Sherman Blues Band (Blues)
**NO outside beverages allowed.
North East, PA is about 15 miles east of Erie, in Erie's wine country.
Create a new summer tradition. Invite your friends or family for an evening of live music in a unique setting. Arrive a few hours early and explore a few local wineries for wine tasting or shop in the nearby town of North East, PA.
Well-behaved dogs are welcomed on leash in the outdoor concert venue at Penn Shore.
More information about Penn Shore Winery & Vineyards can be found here.
Keep in touch with Clement's Lake Erie Cottages by liking us on Facebook.