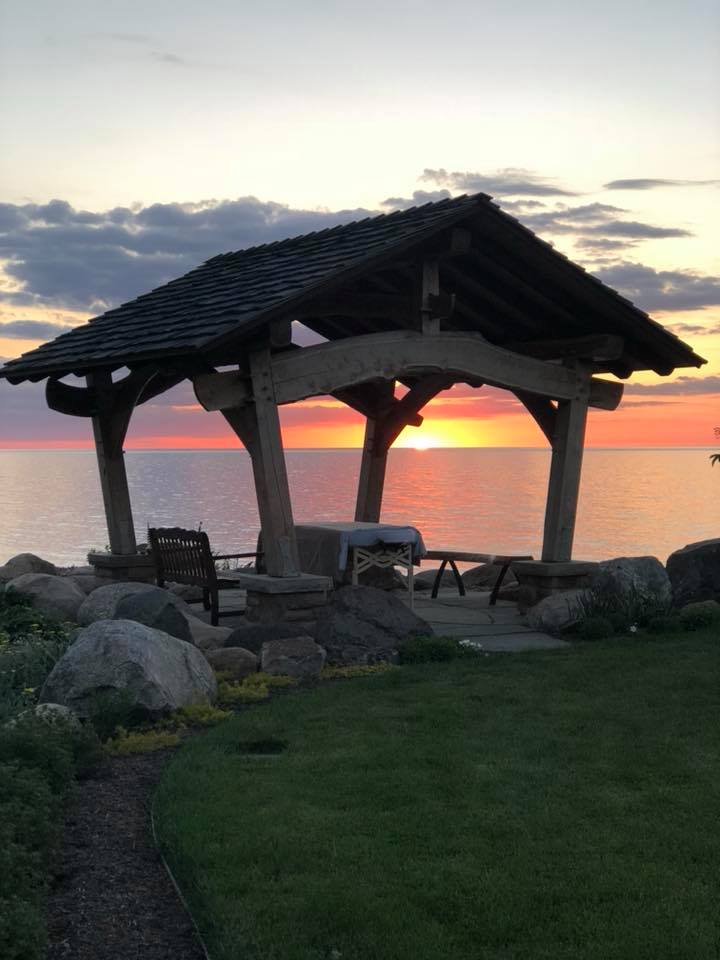 Interested in a massage by the lake?
Whether you are looking for a relaxing experience while on vacation, or you need to work through muscle pain, Julie Griffith of Studio M in North East, PA can help. Julie offers a variety of massages to meet your needs, including Swedish, Hot Stones, and the Ashiatsu Barefoot massages.
Starting this summer (2018) and into early fall while weather permits, Julie is offering a new venue for her Swedish and Hot Stones therapy. This unique new venue is an outdoor setting on the shore of Lake Erie. It offers the beauty of the lake along with shore breezes and the sound of the waves. This is truly a one-of-a-kind setting in the heart of Lake Erie Wine Country.
The Studio M indoor studio (Julie's original location) is located in the shopping district of North East, PA, just 15 miles east of Erie, PA. This is where Julie is the only local massage therapist to offer the Ashiatsu Barefoot massage. Facials, body scrubs, and mud wraps are also offered in the studio location. Shops, restaurants, The Bean coffee shop, and Yori Wine Cellars are all within walking distance.
Oftentimes, the cost of a massage when you are vacationing is exorbitant. But that is not the case when you visit North East, PA. Massages at the studio in town are $70 (60 minute), $95 (90 minutes), and $150 (120 minutes).
Rates at the new outdoor Lake Erie location are $100 (60 minutes), $140 ($90 minutes), $180 (120 minutes).
Need a gift idea? Gift certificates, Paddywax Candles, Farmhouse Fresh lotions and body washes, and Sweet Pea bath bombs are all offered at the studio location and make for the wonderful gift of self-care for a loved one.
All are welcomed here. Ladies groups, couples, and individuals are frequent customers. Pregnancy massages are also available. While Julie offers one massage at a time, the others in your group can stroll the beach (or the town) or relax in a beautiful setting while waiting.
Take some time for yourself, time to realize you are important. You will be so glad you did. For more information, call Julie at (814) 397-0746.