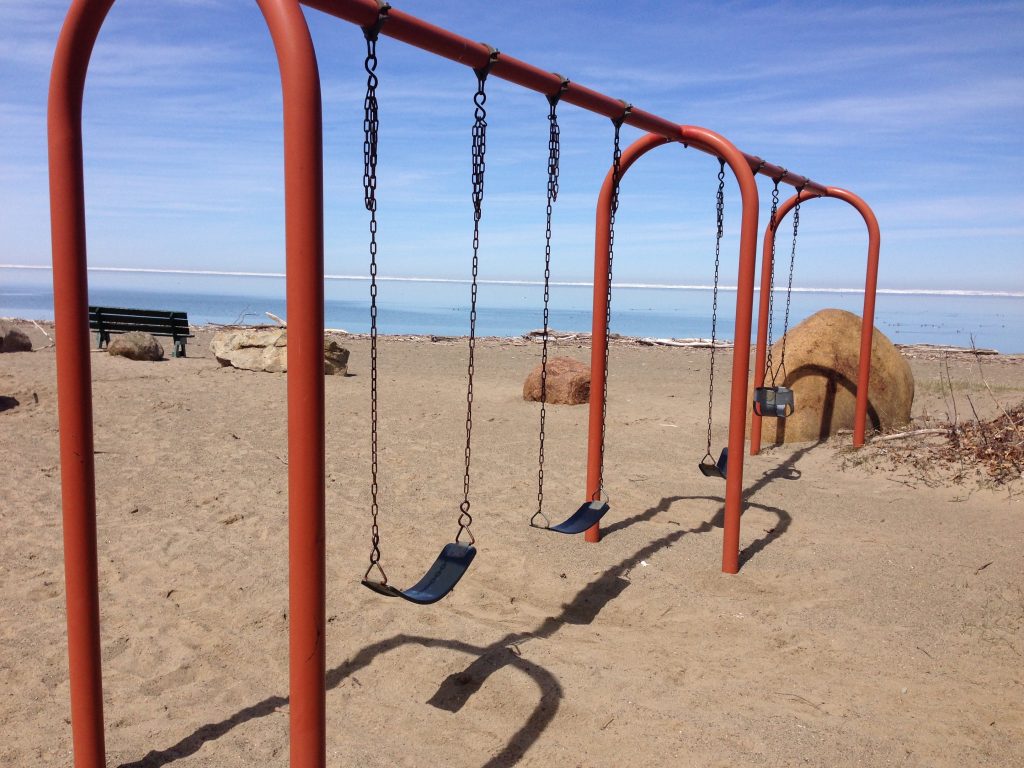 Even though our wineries put us on the map, Lake Erie Wine Country is not just for adults. Families with kids can enjoy our small towns too!  Here are five family friendly activities you can enjoy this fall with kids. (And, mom may even decide to return for a ladies getaway.)
Grape Juice Tasting, Anyone?
The Grape Discovery Center is a perfect place for families to visit. Learn about more than 150 years of grape growing history through stories and interactive displays. Enjoy samples of local Concord grape juice on our patio that is nestled in a Concord vineyard! When you have kids in tow, this is a family-friendly place to enjoy tasting wines from Lake Erie Wine Country. Also, shop for local food products, and art as well as grape and wine related gifts.
Beach Playground
The sandy Freeport Beach is a favorite place for families.  Enjoy the beach playground and search for beach glass and colorful beach stones along the shoreline. You can even bring a fishing pole and fish along 16 Mile Creek which flows into Lake Erie adjacent to Freeport Beach. If you build up an appetite while visiting, the nearby Freeport Restaurant is kid-friendly.
Zip Line And Mountain Adventure Course
Teens and tweens will enjoy the zip lines and mountain adventure course at Peek n Peak Resort. Climb cargo nets, ladders, and obstacles built into the tree lines of the skiing hills for a physical challenge. Or, enjoy the sights and thrill of the zip lines.
Apple Picking
Another family friendly activity in Lake Erie Wine Country is fruit-picking. Apple picking is a fun tradition for many families. Two local apple orchards in North East, PA are:
— Sceiford Quality Fruit, check in at red barn at 11820 Middle Road, North East, 725-5077, Mondays through Saturdays, 9:30 a.m. to 5:30 p.m.; Sundays, 11 a.m. to 5 p.m. Take containers.
— Rahal Farms, 8200 Bort Road, North East, 725-1257, Mondays through Saturdays, 10 a.m. to 5 p.m.; Sundays, noon to 5 p.m., through September. October hours might change.
Read more about apple picking in the Erie-region.
Ice Cream Isn't Just For Summer! 
Kids of all ages (and that includes adults) love to visit a walk-up ice cream stand. The Straw Hat Sundae Shop is our local ice cream stand in North East. With soft serve, Penn State Creamery ice cream, hot dogs, burgers, and more, this local ice cream shop is a must stop on your way in and out of North East on Route 89.
Now let's hear from YOU!  If you have visited Lake Erie Wine Country as a family, what are some of your family friendly things to do and places to go?