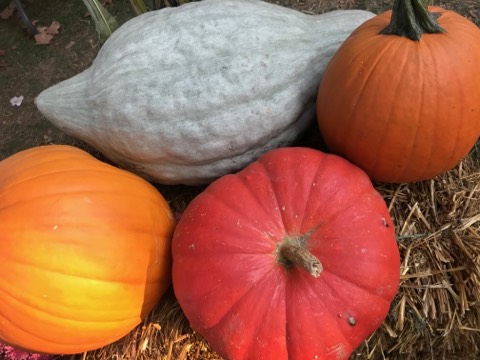 Fall is an exciting time to get away to Lake Erie Wine Country's North East, PA in northwestern Pennsylvania. Whether you need a girls getaway weekend, couples getaway, or family bonding time, we have something to offer for everyone. The heart of Lake Erie Wine Country is the town of North East, PA, just 18 miles east of downtown Erie, PA.
SEPTEMBER IN LAKE ERIE WINE COUNTRY
With many different grape varietals grown here, the peak of ripeness typically lasts throughout September. Because of this, September is amazing time to visit. The mere act of driving past miles of ripe grape vineyards is a treat for the senses:
the color of fall leaves
the harvest machinery in the vineyards
the sweet grape aroma, and
the warm breezes coming off of Lake Erie.
Tasting elevates the experience to a whole new level. You can stop at one of the many roadside farm stands to taste the sweet intensity of the concord grapes. Biting into a concord grape is nothing like tasting the green and red grapes you normally find in a grocery store. The concord seems to explode with intense flavor. (Don't fret if you visit when when the concords are not ripe. You can purchase a wide variety of Welch's concord grape products at The Grape Country Marketplace in North East, PA).
While grape products — including juices, jellies, jams and pies — are popular here, most tourists are drawn by our abundance of wineries. Lake Erie Wine Country boasts 24 wineries, with 11 wineries concentrated right in North East, PA.
In the early days of our wine trail, many of the wineries produced sweet wines. But, in the last decade that
has changed. You can now find both sweet and dry wines, and everything in between. Many of our wineries offer wines on both ends of the spectrum. Lakeview Wine Cellars has some of my favorite dry wines. Courtyard Winery offers two separate tasting bars — one for sweet and one for dry. South Shore Wine Company and Mazza Vineyards offer a nice variety of sweet to dry. If you don't know what your preference is, that's okay. Be honest with your winery host, and he/she will help you find your favorite. We are are not snobby here!
The annual three day WineFest in September is THE biggest festival of the year here. Sponsored by the North East Chamber of Commerce, you'll find three days of live music, two venues, wine tasting, and many local vendors offering food, produce, handmade products, art, and much more. If I could offer one piece of advice, it is to make your lodging reservations ASAP for this event. The event is always scheduled for the last full weekend of September.
OCTOBER & NOVEMBER IN LAKE ERIE WINE COUNTRY
In October, as the fall leaves reach their peak color, the local wineries are abuzz with wine tasting guests. The fall getaway season continues into November with two Harvest Wine Weekend events. If our 11 wineries aren't enough, the wine trail extends to our west into Harborcreek, PA with 6 Mile Cellars and to our east into our neighboring New York State.
If you have that one friend who doesn't like wine, promise them a few stops on the The Lake Erie Ale Trail. Also, tell them that some of our wineries now offer both wine and ale, or wine and cider. Now that the Ale Trail has expanded into North East, you can find wine, craft beer, and cider here. If you are partial to craft beer, follow the Ale Trail into Erie for more craft beer.
Wineries are open seven days per week year round, closing only on major holidays.  Live music and fall
festivals are popular attractions in the fall.  See the list below. Also, check The Cork 1794 for their live music schedule, often on Friday evenings.  Or, make your own live music at Speed 'eez Sports Bar and Grill in North East during Friday night karaoke.
Active adults, or families with tweens and teens, may enjoy the Mountain Adventure Course at Peek n Peak Resort, just 16 miles from us.  With zip lines, and treetop obstacles, its a fun way to experience the beauty of fall outdoor.  Fall Fest in October has fun activities for younger families.
Scenic trail rides, pony rides, and a petting farm are offered at Double DAB riding stables, just 9 miles away in Ripley, NY.
North East, PA is also a draw for steelhead fishing in the late fall through winter. With its popular fishing streams, 20 Mile and 16 Mile, fishermen flock here from all over the country to fish in what is known as Steelhead Alley. Our local North East Marina has a bait shop for your Pennsylvania fishing licenses, bait and basic tackle needs.
Shoppers will enjoy a range of unique shops including antiques, quilting, Serendipity Consignment & Boutique, Grape Country Marketplace, and pottery and arts at the House of the Potter. Start your day or take a break from shopping with a stop by our favorite local coffee shop, The Bean.
LIVE MUSIC AND FALL FESTIVALS
Oct 7, 2017 Free concert at Arundel Cellars & Brewing, 1-4pm
Oct 8, 2017 Free concert at Arundel Cellars & Brewing, 1-4pm
Oct 14, 2017 Free concert at Arundel Cellars & Brewing, 1-4pm
Oct 14-15, 2017 Peek n Peak Annual Fall Fest
Oct 15, 2017 Free concert at Arundel Cellars & Brewing, 1-4pm
Oct 20-21, 2017 Peek n Peak Annual Fall Fest
Oct 21, 2017 Free concert at Arundel Cellars & Brewing, 1-4pm
Oct 22, 2017 Free concert at Arundel Cellars & Brewing, 1-4pm
Oct 29, 2017, Free concert at Arundel Cellars & Brewing, 1-4pm
Nov 3-5 Harvest Weekend Celebration #1, www.lakeeriewinecountry.org
Nov 10-12 Harvest Weekend Celebration #2, www.lakeeriewinecountry.org
WHERE TO EAT IN NORTH EAST, PA
North East, PA offers a variety of restaurants from The Cork 1794, Noosa at the North East Marina with its lakefront view, the iconic Freeport Restaurant and Tavern, Michael's Italian Restaurant and Pizzeria (delivery available), and Johnny B's known for its cooking from scratch. You can venture a little further to Meeder's, a popular diner known for its homemade pies and soups in Ripley, NY.
IT'S NOT TOO LATE FOR A FALL GETAWAY
Who doesn't look forward to a fall getaway? A drive through Pennsylvania's rolling hills is especially beautiful this time of year. Feel free to call/text me with any questions about your visit to our area.
I am Lynne Clement, owner of Clement's Lake Erie Cottages, 814-566-4722 (text me for quickest reply).  Keep in touch by Facebook at Clement's Lake Erie Cottages.
What else do you like to do in Lake Erie Wine Country in the fall?  Leave your ideas in the comments.