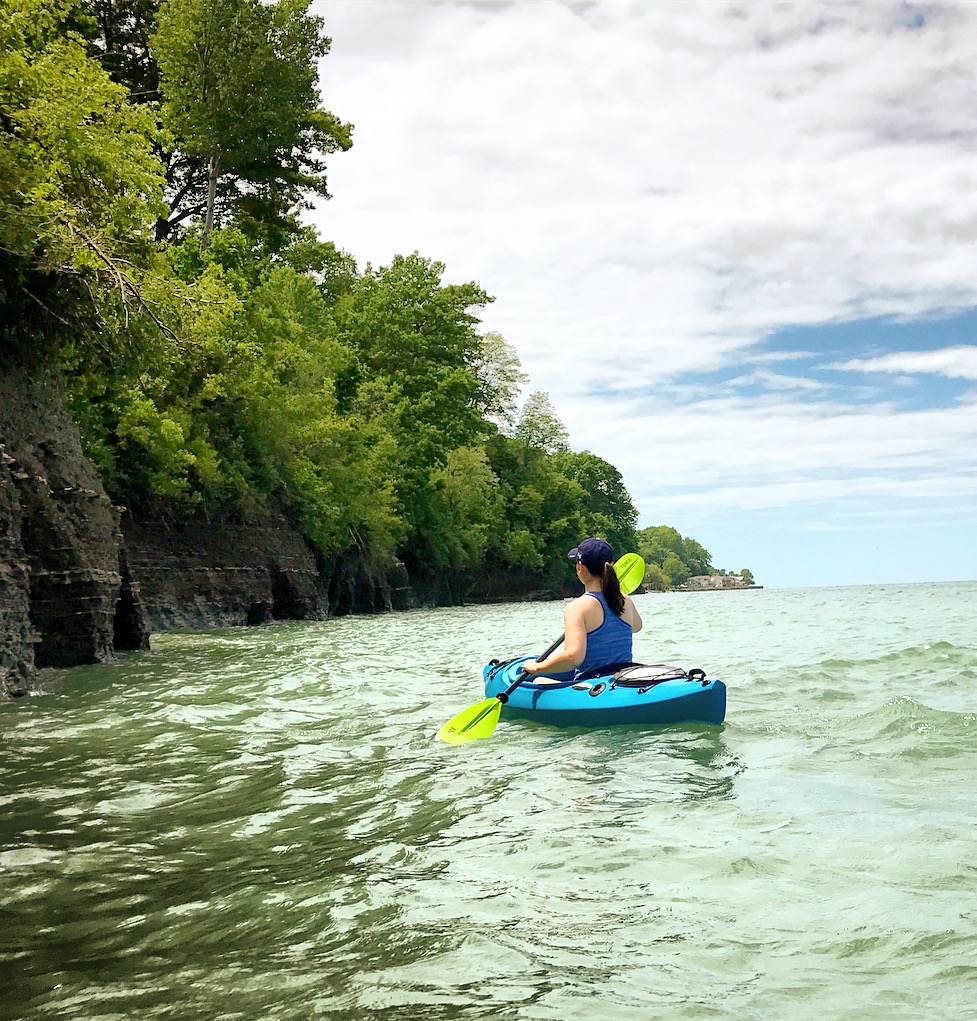 Kayaking along the shore of Lake Erie gives you a close-up view of the coves, waterfalls, and beautiful cliffs along Lake Erie's perimeter in North East, PA and other towns along its shore. I enjoy the peacefulness and the scenery of the coast and often see unique birds — like bald eagles, herons, and cormorants.

To access Lake Erie with a kayak, you can launch from a public beach or use a boat ramp like the one at the North East Marina. When deciding where to launch from, consider how far you may have to carry or cart your kayak and the terrain. And in either case, plan to get your feet wet. This is where a pair of water shoes or even athletic shoes (that you don't mind getting wet) can be helpful, especially if your water entrance is stony or slippery.

Once you're on the water, the fun begins. When kayaking on Lake Erie, I don't venture too far from the shoreline. The most interesting sights are along the shore so I stay about 20 to 30 yards out. I go far enough out to take in the sights but close enough to move in for a better view. I also prefer staying close enough to shore that I'm not in the way of boat traffic or boat wakes. While most boaters are responsible, I don't want to take the chance a speed boat will see my little kayak a few miles out.

Here's a tip: If you like to fish from your kayak, you only need to go out about 100 yards to catch bass.

Fun Fact: Because we're on Lake Erie's southern coast, you can look north on a clear day and see Canadian buildings along the north coast or at night you can see Canaadian lights. Lake Erie's shortest stretch from the U.S. to Canada is only 24.3 miles. This distance is from North East, Pennsylvania to Long Point, Ontario.

A quick note about safety. Check fishandboat.com to comply with all rules of the Pennsylvania Fish and Boat Commission. Typically, you must have a US Coast Guard-approved life jacket per person, a sound producing device (e.g., a coaches whistle) and a handheld white light when kayaking.

If you're not familiar with Lake Erie, know that its conditions can change quickly. Check the weather forecast before you head out. If weather conditions are expected to change, don't go out. Also, only kayak on Lake Erie when the lake is flat, meaning no waves.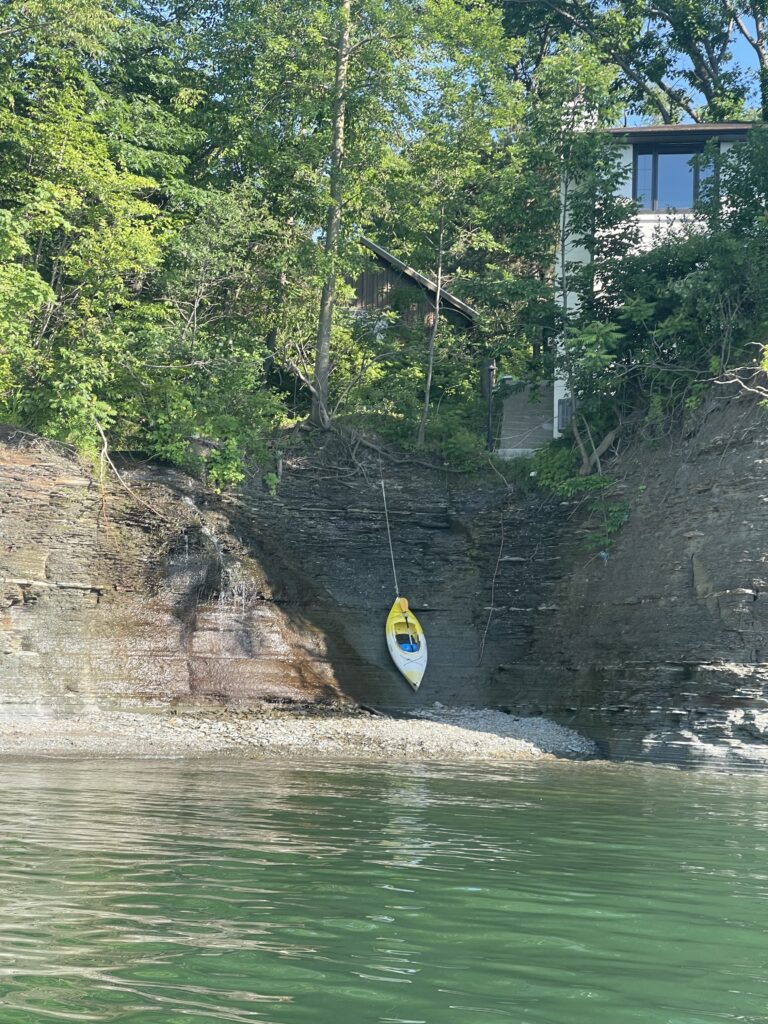 Kayaking Howard Eaton Reservoir
Just 6.8 miles south of North East, PA is a 246 acre reservoir and recreational area called Howard Eaton Reservoir or Bull's Dam. This is a great place to kayak (and also walk, run, bike, fish, picnic and horse ride). The water is often flat when Lake Erie is not.
Look for a boat ramp to deliver your kayak before parking. Once on the water, I typically paddle the length of the reservoir and return. There is no right or wrong way to navigate the reservoir. But be aware that there are often people fishing. Stay clear of them and their fishing lines.

As you can see in the image below, there are no homes or businesses around the reservoir. There is a 3.3 mile unpaved trail around it. The vibe is nature.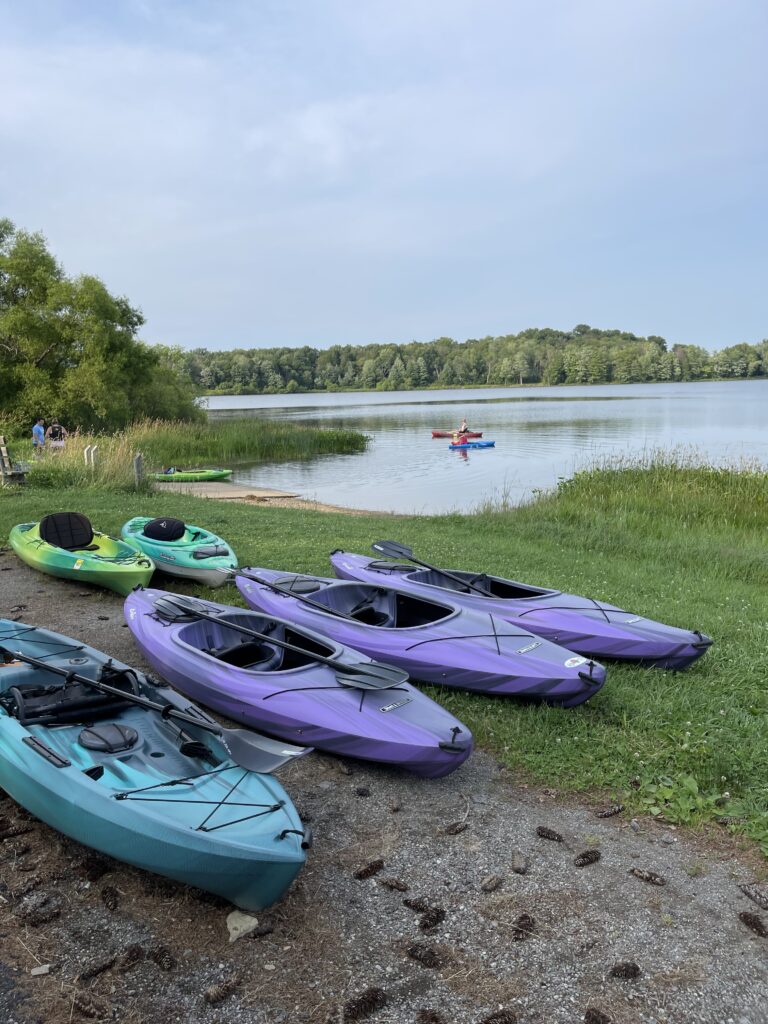 Kayaking Findley Lake, NY
Findley Lake is a gorgeous inland lake about 14 miles south of North East PA. The perimeter is populated with beautiful homes, cottages and businesses. It's quite picturesque. The launch ramp and a number of businesses and retail shops are at the north end of the lake. I do recommend Alexander's restaurant and bar, also at the north end of the lake.

Note that Findley Lake kayak laws and requirements are regulated by New York State. Please check the New York State requirements to launch here legally.

Kayaking The Lagoons at Presque Isle State Park
The most unique place I have kayaked is the lagoons area of Presque Isle State Park. This is a manmade, inland series of waterways. The water is typically like glass. Unlike the above options, this is more like a trail of water than an open lake. The flora and fauna are gorgeous. I've seen beaver dams, herons, and egrets. I see a lot of fishermen in this area.

Where to rent your kayak?
I highly recommend The Voyage Kayak Rentals in North East, PA. They will deliver (and pickup) your kayak rentals to your kayaking destination. They also offer transport service if you need your kayaks to be delivered and picked up for you.