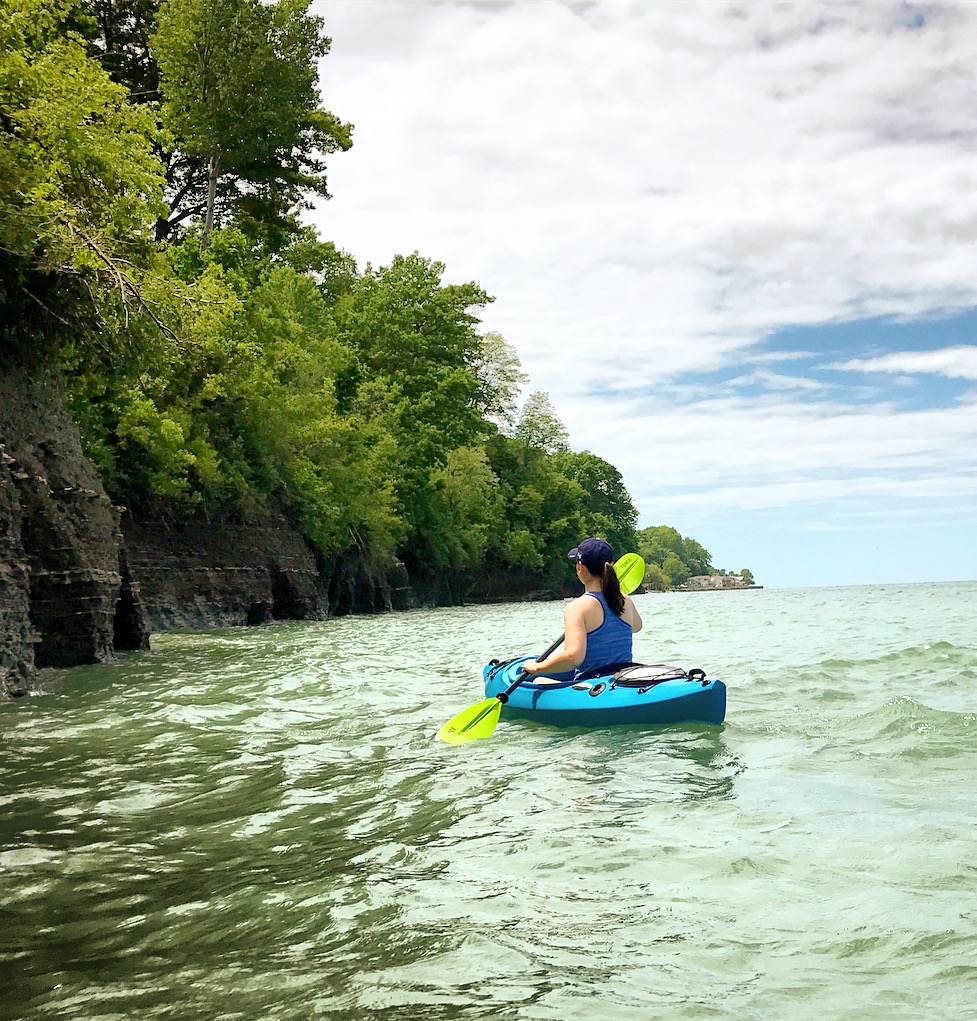 Kayakers can explore the coves, waterfalls, and beautiful cliffs along Lake Erie's shoreline in North East, PA. A small craft such as a kayak or canoe is the ideal way to explore this breathtaking scenery which is otherwise inaccessible.
From our cottages, you can paddle 1.25 miles west along the shoreline to reach Freeport Beach, a sandy public beach with sand volleyball courts and a children's playground. Or, you can paddle 2 miles east to reach the North East Marina, home of the new restaurant and bar called Noosa. Take a break and sit on the outdoor patios and enjoy a drink, lunch or dinner before you make the return trip.
If you paddle north, you will head out into Lake Erie where you don't need to go far to reach the local bass population about 100 yards off shore. Kayaking is a great way to fish for bass here.  After a day of paddling, you will have many casual wineries and restaurants in North East, PA to choose from including:
Freeport Restaurant & Tavern — A casual, nautical themed restaurant with American food. This is a great place to taste famous Lake Erie perch and locally made wine.
Noosa — A restaurant and bar, outdoor patios, and lakeside views overlooking the North East Marina.  A great place for drinks, dining, and sunset watching. Though this is a new restaurant, the restaurateurs are not new. The owners and chefs are savvy enough to meet the needs of foodies — see their other restaurants 1201 Kitchen and Bird — but also the burger and fries crowd.
Johnny B's — A restaurant and bar, is a favorite of the locals, in the town of North East. Johnny B's is famous for its cheeseburger soup and buffalo chicken wing soup!
Rough Water? 
On days when Lake Erie is not flat enough for kayaking, consider an inland body of water.  We have those too!
The Lagoons at Presque Isle State Park, about 27 miles, is a series of man-made waterways

inside the state park. This is hands-down the best place to kayak in the Erie area. Protected from the elements, the water in the lagoons is likely to be flat even when larger bodies of water are kicking up. Expect to see beautiful flora and fauna in this location. Birders especially will be delighted with the variety. Presque Isle State Park has been rated by Birder's World magazine as one of the top birding spots in the country. Presque Isle's location on the Atlantic Flyway makes it a favorable spot for birds to stop to feed and rest on their migration across Lake Erie.(1) Fishing is also a popular activity in the lagoons.
Howard Eaton Reservoir in North East, PA, also known as Bull Dam.  Just 7 miles from our cottages, the reservoir is popular for shore fishing (pan fish, northern pike), hiking, mountain biking, and kayaking.
Findley Lake in Findley Lake, NY is a small inland lake just 14 miles from our location in Lake Erie Wine Country. Surrounded by cottages, Findley Lake is a beautiful place for a paddle. You can explore the little town when you're finished. A popular restaurant nearby is Pine Junction Tavern. Known for their ribs, it's in a unique rural setting, often with live music and outdoor seating areas with fire pits which are nice for the cooler seasons.
Where to get your kayaks?  Kayaks are becoming more affordable these days to purchase. In my
opinion, you don't need an expensive kayak when you are just starting out, especially if you just plan to use it recreationally. If you have never kayaked before and you want to try kayaking before you buy a kayak, the Presque Isle Canoe & Boat Livery is a convenient place to rent. It's located right at the lagoons area so you won't need to transport the kayaks from outside of the park. If you want to inquire about a longer term rental, try Presque Isle Outfitters, 
Do you have another favorite place to kayak in the Erie area? Please tell us!
(1) www.presqueisle.org/things-to-do/bird-watching