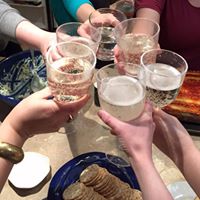 Is it your turn to plan the annual ladies weekend getaway or bachelorette weekend?
You want to plan a memorable weekend, but it can be difficult to find just the right place to stay and something entertaining to do. After nine years of hosting ladies groups like yours, I am going to try to answer all of your questions about planning a ladies weekend in Lake Erie Wine Country. If you have additional questions, please reach out to me.
WHERE IS LAKE ERIE WINE COUNTRY?
The trail of over 20 wineries known as Lake Erie Wine Country begins 10 miles east of downtown Erie, Pennsylvania and extends into nearby New York State. A large concentration of wineries is located in the town called North East, Pennsylvania. North East offers 10 wineries, a quaint shopping district, miles of Lake Erie shores and scenic vineyards, making it an ideal place to stay for your wine tasting getaway.
WHERE TO STAY
Once you stay in a vacation rental home for your girlfriends getaway, you may never want to stay in a hotel again. There's something to be said for sitting around a campfire with a glass of wine, hanging out family-style in your pajamas, sharing a cup of coffee in the morning, and making meals together. These rituals, in the comfort and privacy of a home, allow maximum bonding time when you are not out exploring.
Bed and breakfasts and hotels may make more financial sense for small groups who only need one room. There are plenty of lodging options for smaller groups in Lake Erie Wine Country. But when your group needs more than one room, the economics of a vacation rental home are attractive, and the comfort cannot be matched.
WHAT TO DO DURING YOUR LADIES WEEKEND
When you're the planner, you'll want to suggest some things to do for your weekend and get the input of others in your group. That can be a challenge if you're starting from scratch. While every group has different interests and ultimately a different itinerary, many of our groups have a similar plan.  Let me suggest some ideas that you can run by your group to make your planning easier. Here's what a typical weekend can look like.
Friday Arrival & Catch Up
Many ladies groups arrive late Friday afternoon and use Friday evening to stay in and catch-up. Some groups schedule a private in-home event (see the list below) but many groups are happy to just be together. Dinner can be as simple as each person bringing an appetizer to share, or ordering pizza and salads delivered from Michael's, or going out to a nearby restaurant such as Noosa North East (open seasonally) at the North East Marina, just 1.4 miles away. Noosa's incredible view overlooking the marina and Lake Erie is a spectacular venue for sunset watching.
But you don't need to go anywhere to watch our fabulous sunsets. The lake entrance is just 30 to 100 steps from our rental homes. Take some wine to the beach and build a campfire as you watch the sun set. Once the sun dips below the horizon, stay a little longer and enjoy the "afterglow" of colorful sky and linger around the camp fire at the beach.
Saturday Outings
Saturday is winery touring day. The early risers or energetic ones in your group can take a long walk or bike ride on our scenic country roads. Or, schedule a private morning yoga class for your group at the cottage. Then, hang out together with morning coffee while getting ready for a day of wine tasting. A quick and fun breakfast can include an assortment of custom donuts from the Little Shop of Donuts.
Wineries generally open for tasting at 10 or 11am and close between 4 and 5pm. The opening and closing times vary for each winery and by the season. For planning purposes, as you create your itinerary, be sure to check the opening time for your first winery and closing time for your last winery. Pick a handful of wineries to visit and think about where to stop for lunch during your tour. You don't want to go wine tasting on an empty stomach. For a convenient lunch, Presque Isle Wine Cellars has a restaurant inside. Yori Wine Cellars is adjacent to Michael's Restaurant. South Shore Wine Company has a seasonal cafe open from mid-May to mid-October where I recommend sitting in the screened-in porch for the best ambience.
Many of my ladies groups love eclectic and funky Skunk & Goat Tavern for dinner. A favorite restaurant of the locals is Johnny B's Restaurant where the soups, sauces, and most of the food is made from scratch. After dinner, gather at the lake for the sunset, relax around a campfire at the cottage, lounge around in your pajamas, or watch chick flicks on our 55″ smart tv.
Sunday Morning Finale
Sunday morning is a great time to do the North East Food Tour. If the scheduled dates for the tour do not work for you, reach out to the owner to inquire about other dates or times. The Skunk and Goat Tavern offers Sunday brunch. For a quick and simple coffee and breakfast, The Bean is our cozy local coffee shop, just 3 miles away.  Freeport Restaurant, just 1.25 miles away serves traditional breakfasts. Reservations are recommended during the summer season.
PRIVATE IN-HOME EVENTS
Fun ideas for your weekend can also include private events offered to you in-home.  The instructors listed below are familiar with my rental homes.
Private yoga class
A yoga instructor can customize a class to your needs and location: in the home, in the yard, or at the beach. You can choose from a gentle Restorative, Yin, or traditional Hatha. If you have always wanted to try yoga and need a beginner class, our instructor can accommodate your level or a mixed level class. Talk to the instructor, Michelle Bielanin, 814-602-2470, who can meet your needs. Approximate rate:  $75 per class for your group.
Private wine glass painting or canvas painting class
You pick the theme. See my Pinterest page for theme ideas or dream up your own idea.  Approximate rate:  $25 per person for two wine glasses, supplies, and a fun guided class. Tamara Maas is my favorite instructor for this.  Call or text her directly to arrange your class at 814-434-5094.
Custom cooking class
You pick the theme or menu or ask the instructor for ideas. For an easy and entertaining dinner, hire Meghan Mehler, a local culinary professor and owner of The Cooking School, to bring the food to you and show you how to prepare something new. Learn more about The Cooking School experience. Call Meghan at 814-392-4077 to arrange for your class.
A traveling masseuse
For masseuse recommendations, please ask me (Lynne Clement at lakeeriecottages@gmail.com).
WHEN SHOULD YOU VISIT?  
Lake Erie Wine Country wineries are open year round except for major holidays. Consider whether you want to visit on a quieter weekend to get more personalized attention at the wineries, or if you prefer the festivities of the popular wine country event weekends, which include:
North East Chamber of Commerce's Annual WineFest  Our biggest wine event of the year consists of three days filled with wine tasting, live music, food, and vendors. Two insider tips for this event:  book your lodging as early as possible and buy your tickets online prior to the event. Not only will you pay less for online tickets, but you'll avoid lines and delays once you arrive at the event.
Lake Erie Wine Country Events calendar  details events throughout the year. Some ticketed events include wine and food pairings at all 20+ Lake Erie Wine Country member wineries. These annual events typically include:
Harvest Wine Fest on the first two weekends of November
Wine & Chocolate Weekend around Valentine's Day
Wine & Cheese Weekend in April
A Charming Weekend in May
Many of the local wineries offer their own events throughout the year like walks through the vineyard and live music events. See the Lake Erie Wine Country calendar for events on the weekend of your stay.
The North East Chamber of Commerce also offers Uncorked in May.  Uncorked is a themed wine walk event. Many participants dress for the unique theme each year, making this a really fun event for ladies groups. In the past, some ladies groups have coordinated costumes and even decorated the rental house according to the theme.
HOW TO GET AROUND
If you do not have a designated driver, consider hiring a driver. Negotiate a rate for an Uber driver to take you around for the day. One local driver who has expressed interest in this is Brian Holler at 814.923.7515.
Limousine service is also available through La Grand Elite.
AN AFFORDABLE LADIES GETAWAY
While many bachelorettes are breaking the bank for their pre-wedding weekend, a visit to Lake Erie Wine Country can be memorable and affordable.
Transportation — Our location is a two hour or less drive from Pittsburgh, Buffalo, and Cleveland. Avoiding airfare can go a long way to reducing the cost of your ladies weekend.
Lodging — Please check our website for the current rates or text Lynne Clement at 814-566-4722 for a quote.
Our off-season rates provide a great value. We offer two night stays in fall, winter, and spring. The rate includes exit cleaning, bed linens, towels, WiFi, and a fully-stocked kitchen (you bring the food and beverages). We provide the large and small appliances including dishwasher, oven, cooktop/range, refrigerator/freezer/ice maker, two coffee makers (Keurig and carafe-style ), crockpot, mixer, blender, microwave, pots, pans, dishes, serving pieces, utensils, dish detergent, dishwasher detergent, toilet paper, one roll of paper towels. Our goal is to minimize the number of items you need to pack. The cost, split over your group, is very reasonable. Staying in a home can also help you cut down on your food costs, coffee, and entertainment.
Food — Food costs will depend on whether you eat in or out. But generally, the restaurants in a small town like North East, Pennsylvania are reasonably priced compared to larger cities. Planning for a few meals at home can help keep costs down.  Dining out in a small town also helps keep costs down compared to big cities.
Wine Tasting — Touring the wineries is a super fun and affordable experience. To offer some random examples of the rates, wine tasting at Lakeview Wine Cellars is $1 for 3 samples and $2 for 6. At Yori Wine Cellars, the rate is $2 for 6 samples. At the three Mazza Wineries, the cost of wine tasting is $2 for 3 samples and $4 for 6.  For your budgeting purposes, consider that you may find a great bottle of wine — or a few — that you must buy. The most recent bottles I purchased at Lake Erie wineries were $14 and $18. That's the whole idea of wine tasting. Take some home with you.
Driver — If you hire a driver or limo service for your tour, you'll need to factor that cost in as well.
DISTANCE FROM PITTSBURGH, BUFFALO, CLEVELAND, COLUMBUS
Check out the exact distance from your location to ours using this address: 136 3rd Ave, North East, PA 16428.
QUESTIONS?
If you have any additional questions about your ladies weekend, feel free to contact me.  Lynne Clement at lakeeriecottages@gmail.com or text me (Lynne) at 814-566-4722 for quickest reply.
My availability calendars are on my website at www.ClementsLakeErieCottages.com. Scroll through each listing to see the pricing and the calendars. Feel free to ask any questions. I truly enjoy answering your questions.