Looking for a fall getaway? Many visitors say fall is the best time to visit the quaint town of North East, Pennsylvania. Nestled along the shores of Lake Erie–near Erie, PA–fall offers comfortable weather, changing leaf color, and many festivals to celebrate harvest time.

Here are my top 5 recommendations for fall activities to help you plan your visit to North East.

1. Visit wineries and sample the local wines
North East, Pennsylvania boasts 13 wineries.  If that's not enough, the wine trail extends both east and west of North East giving you even more options to explore all wineries in Lake Erie Wine Country.

Wineries are open 7 days per week. Consider a visit on the quieter weekdays to get plenty of attention at the wineries.  Or, plan for a weekend or an event weekend if you like a more festive and bustling atmosphere.  

Here are the 13 wineries in North East, Pennsylvania:

Yori Wine Cellars
Penn Shore Winery
Presque Isle Wine Cellars
Courtyard Winery
Driftwood Wine Cellars
Cellar '54
Mazza Wineries
South Shore Wine Company
Lakeview Wine Cellars
Heritage Wine Cellars
Arundel Cellars & Brewing
Arrowhead Wine Cellars
Burch Farms

2. Attend a fall festival

Harvest time brings an air of excitement to historically agricultural areas. North East and its neighboring towns are no exception. Nearly every fall weekend features a festival or event. Here's the rundown for 2023.
September 1-3-Harvest Festival in Findley Lake, NY (pictured below)
September 2-WineFest in Westfield, NY

September 16-OKTOBERFEST at Penn Shore Winery, North East, PA
September 22-24-WineFest in North East, PA
October 7-Fall Fest in North East, PA.
October 14-15-Peek 'n Peak Fall Fest in Clymer, NY
October 21-22-Peek 'n Peak Fall Fest in Clymer, NY
November 3-5-Harvest Weekend #1 in North East
November 10-12-Harvest Weekend #2 in North East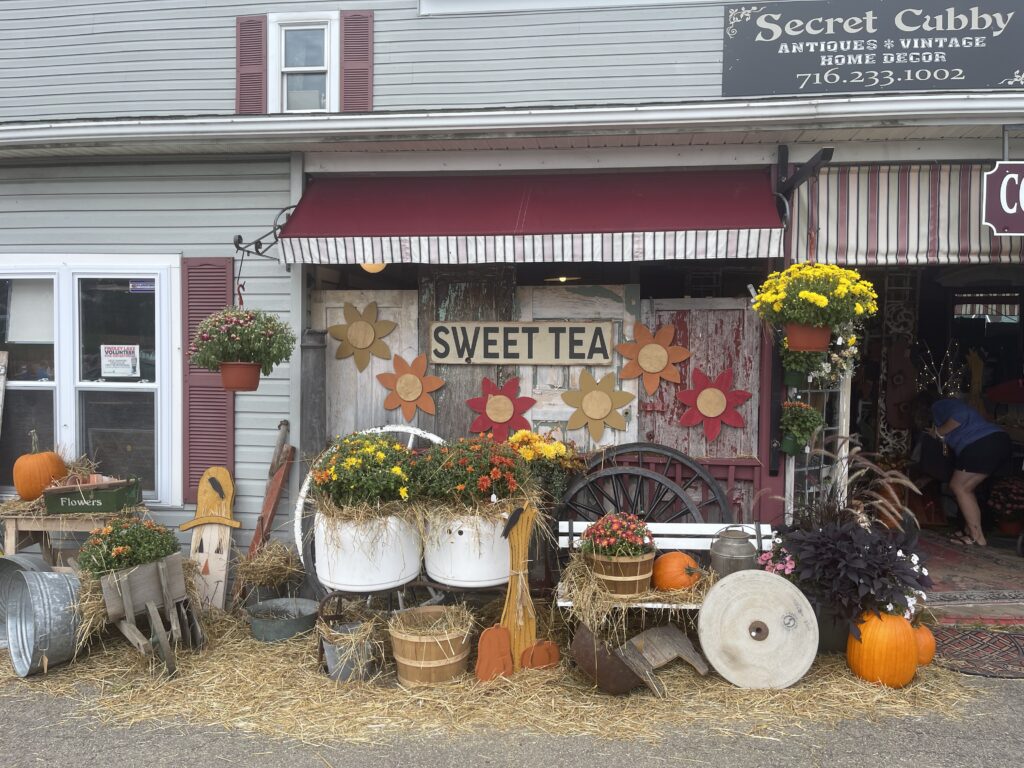 3. Go apple picking
Aside from the physical and mental health benefits of picking apples, who doesn't love homemade apple pies, apple donuts, apple crisp, apple cobbler, apple butter, apple sauce, and caramel apples?

Sceiford Quality Fruit is our favorite apple-picking place. Located at 11820 Middle Road, North East, PA (less than a mile from Clement's Lake Erie Cottages – vacation rentals in North East).
4. Hike or bike the beautiful fall foliage
Our local bike shop in North East, Lake Country Bike, offers free maps for cyclists interested in biking the area – and even biking to the wineries. They also offer organized wine country bike tours on September 22 and 23, 2023 during the WineFest event.

Popular hiking spots near North East, PA are:

Conservation Park | 20 Mile Creek in North East, PA (photo below) – This park has both unpaved and paved paths that lead to Fisherman's Beach, a dog-friendly beach. You'll often see fly fishermen in 20 Mile Creek and along the mouth of the creek.

Wintergreen Gorge in Harborcreek, PA – This six-mile gorge has a 1.2-mile-long trail and beautiful views of 4-Mile Creek. Part of the gorge is adjacent to the campus of Penn State Behrend, also known as Penn State Erie. Access the trail and parking at 3399 Cooper Road, or via parking lots at the Prischak Educational Building or Ohio Hall of Penn State Behrend.

Panama Rocks in Panama, NY – The main trail at Panama Rocks is a one-mile loop. Good mobility is necessary. Bring your cell phone/camera because the rock formations are Instagram-worthy.

Presque Isle State Park in Erie, PA – This state park has several trails, but the most popular is the 13.3-mile paved multi-purpose trail. Multi-purpose means you can walk, run, bike, or rollerblade. And, it's dog-friendly–as long as your pet is on a leash. This trail is mostly flat and you can enjoy views of Presque Isle Bay, Lake Erie, fall leaves, and birds.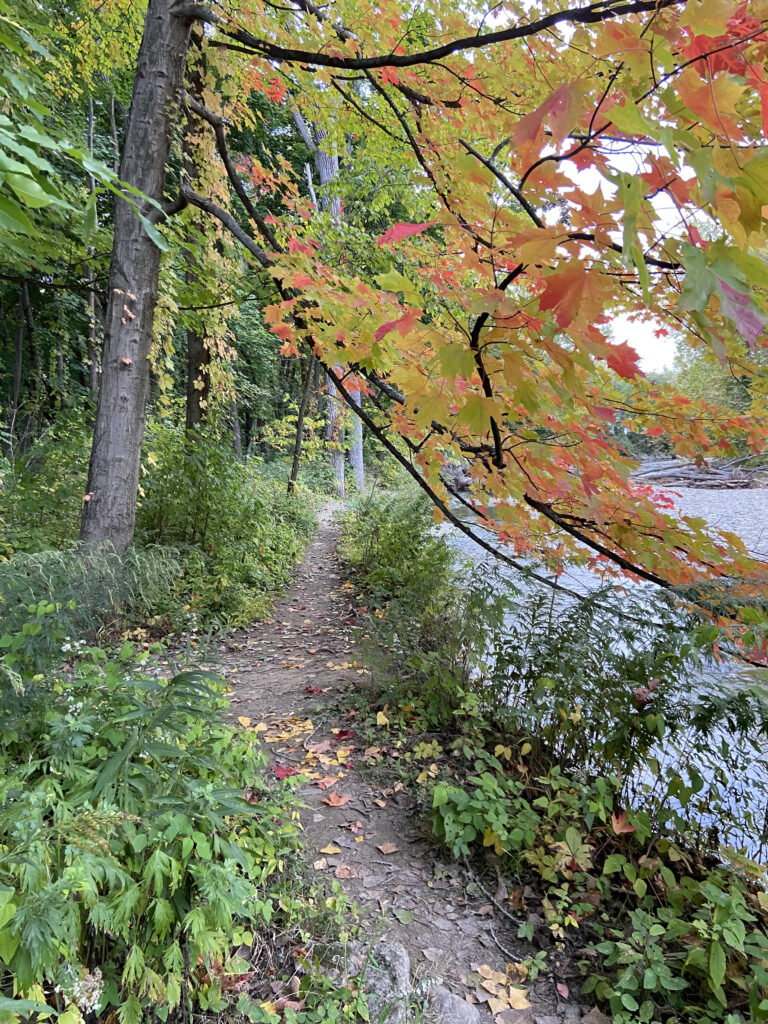 5. Enjoy beautiful scenery and grape-scented air
If you've never been to North East in September, you haven't experienced the sweet grape aroma that fills the air for a few weeks each September. This happens when the Concord grapes are ripening on the vines of miles of vineyards. Imagine stepping outside into this sweet scent or taking a drive with the windows rolled down to enjoy the grape aroma. It is truly a unique experience.

The best weeks color leaf color here along Lake Erie are typically in early to middle of October. Drive along the country roads of North East and surrounding areas to see colorful leaves, harvesting equipment in action, and views of Lake Erie. Stop at the local farmstands for fresh produce – including Concord grapes.