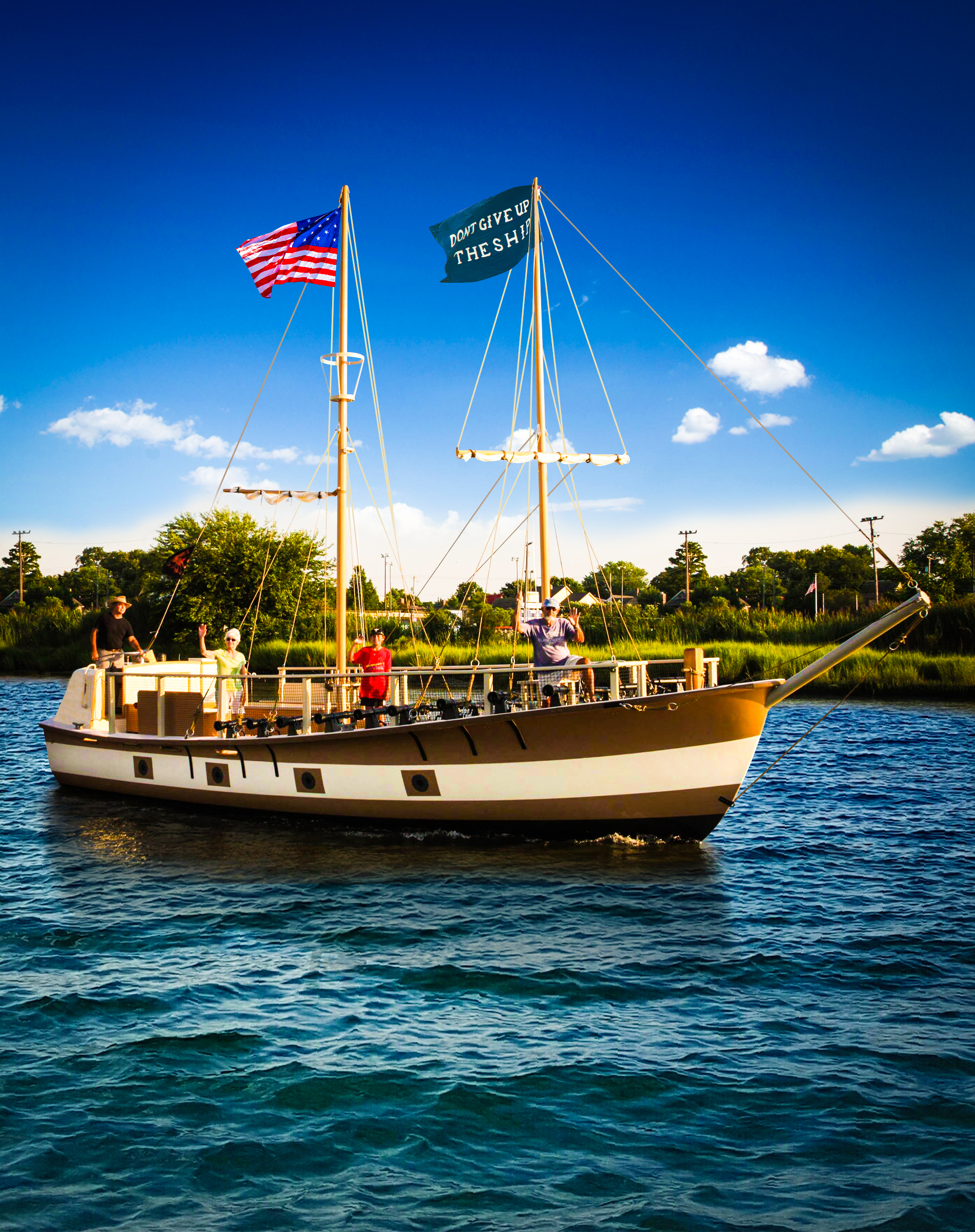 "Where can I rent a boat on Lake Erie?"
If you're planning a summer vacation or staycation in Erie, Pennsylvania chances are you're checking out things to do around Lake Erie. As a vacation rentals homeowner, I talk to thousands of Erie tourists each year. The boat rental question is one of the top questions I hear. You've come to the right place for information because I love boating and Lake Erie.
Not only are there numerous options for boating here, but you'll be surprised at how affordable they are. I'm going to open your mind to all of the options for boating – not just boat rentals. My hope is you will find an excursion that will be the highlight of your trip, and a source of fun memories for years to come.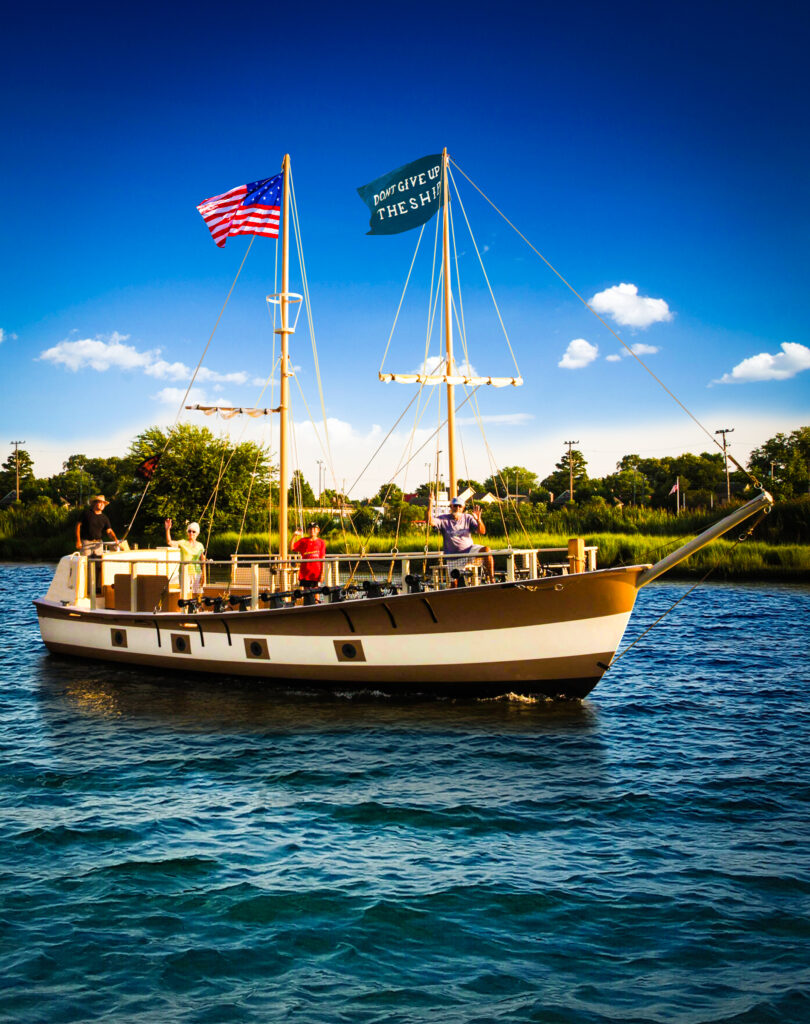 1. U. S. Ariel Historic Adventure – new for 2019!
Have you ever wondered what it was like to be a sailor on a tall ship during the War of 1812? Now you can find out. On the new U.S. Ariel Historic Adventure, patrons will be treated to the tale of Erie's role during the War while the ship visits the historically significant areas of Presque Isle Bay.
During the tour, you will go through "sailor training" (i.e., fun games and exercises) to become a sailor in Commodore Perry's Lake Erie Fleet. The ship's crew will immerse you in the culture of the time with their period-appropriate uniforms and acting. If you enjoy living history reenactments, this is the tour for you.
The experience is tailored for all ages. Kids will enjoy participating in water cannon battles and games. Adults will enjoy sight-seeing and the historical narration.
The ship holds up to 37 passengers. You can reserve enough spots for a small group or book the whole ship for a private experience. Consider this for your family vacation, an office bonding activity, a birthday celebration, a home-schoolers' history lesson, guys' or girls' night out, or a fun way to entertain clients or out-of-town guests.
Book your historic adventure on the U. S. Ariel now.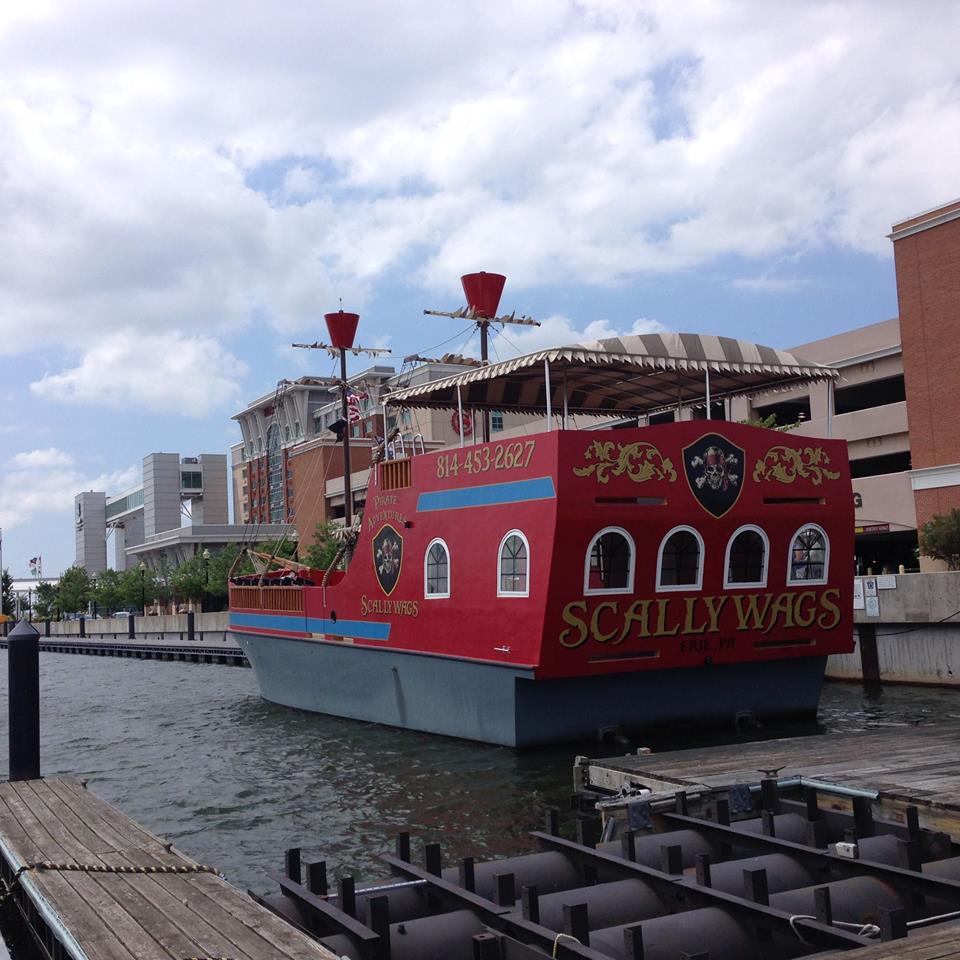 2. Scallywags Pirate Adventures
Kids of all ages will enjoy the antics of pirates aboard the Scallywags pirate ship. Choose from either the family-friendly adventure or the adults-only wobbly pirate booze cruise.
During the family adventure, pirate-loving kids are treated to face-painting, games, water cannon battles, and a dance party while Captain Jack Sparrow shoots his snarky comments at unwitting adults onboard. The cash bar is open for adults during the family adventure. Try a favorite drink of the locals, the Rum Runner. Learn more about the pirate experience for families.
Alternatively, adults can enjoy happy hour on the bay at 6:15pm on Wednesdays or Fridays. Or enjoy the 8:15pm pirate party on Wednesdays, Fridays, or Saturdays. DJ, dancing, and smack-talking pirates will be sure to entertain you. The cash bar is open during these adults-only options.
The ship fits up to 75 people and can be reserved for private groups. An evening sunset cruise is a fun time to reserve for an adult or family-friendly outing. Kids' birthday parties are also a blast.
Scallywags is docked at the north end of State Street at Dobbin's Landing. You can't miss her in the marina across from the Sheraton Hotel, a convenient location in downtown Erie near UPMC Hamot Hospital and Erie Insurance headquarters.
814-453-2627
http://www.scallywagspirateadventures.com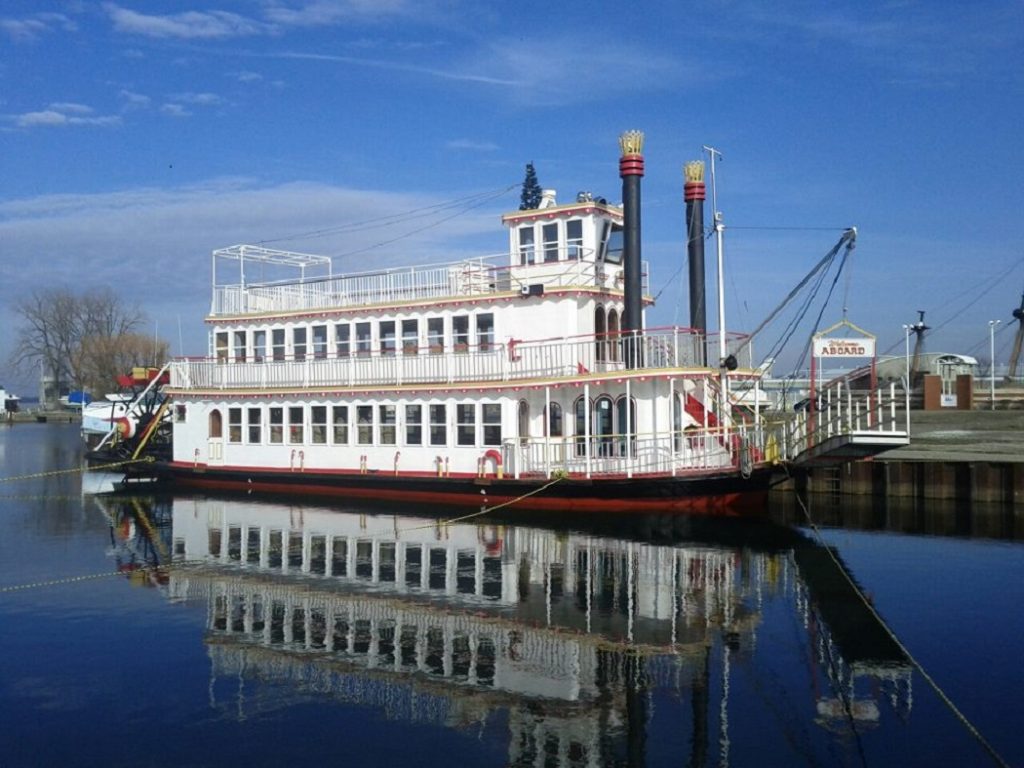 3. Victorian Princess Cruise
The Victorian Princess is Erie's only authentic paddle wheel boat and she is a beauty. Often booked for special events like wedding or baby showers, birthday or anniversary parties, and weddings, this ship is mostly enclosed — so a good option in case of a rainy day — and appropriate for all ages.
The special events calendar features seasonal events such as a Prom Dinner Cruise, Mother's Day Cruise, Cinco de Mayo Cruise, as well as themes including historic, brunch, lunch, happy hour, dinner, sunset, and moonlight cruises. Family dinners and Captain's Dinners are also offered.
When the Victorian Princess is not cruising on Presque Isle Bay, you can see her docked along Dobbin's Landing near the iconic Bicentennial Tower. Bring your camera! She's very photogenic.
814-459-9696
http://www.victorianprincess.com
4. Lady Kate Scenic Tour
This 14-mile, 90-minute scenic tour departs from Presque Isle State Park near the Perry Monument. Weather permitting, the itinerary will take you into the open waters of Lake Erie where a live narrator will tell you about the sights, including lighthouses, beaches, and the Erie skyline. If the open lake is not calm enough, an alternative route inside Presque Isle Bay is used.
Lady Kate is an open-air boat with a "roof" to shade you from the sun. If you are planning to visit Presque Isle State Park, this is a nice excursion during your visit.
Insider tips:
Dress for the weather.
In the spring and early summer, temperatures near the lake are often cooler than those inland.
Don't go hungry.
Don't go hungry or thirsty as food and beverages are not offered on the boat and there are no restaurants inside the Park. Sara's Diner at the entrance/exit to Presque Isle is a favorite seasonal eating spot of the locals. Sara's offers a fun experience with plenty of photo ops. Not the healthiest food, but definitely fun food and a fun experience. Think foot-long hot dogs, burgers with self-serve fixings, grilled chicken sandwiches, curly fries, and my favorite – the orange-vanilla twist soft-serve ice cream cone!!! Since I go to Presque Isle State Park a lot, often I use the drive-thru just to get the cone!
Consider a picnic.
Picnics are encouraged at Presque Isle State Park. You'll find plenty of picnic tables and grills throughout the Park, and you are welcomed to bring a cooler, charcoal, lighter or. matches, and all the fixings for grilling out or a picnic. Grilling out at Perry Monument or the nearby Lagoons makes for a lovely activity either before or after your boat tour.
Allow enough travel time.
Allow adequate time to get to Lady Kate's departure location, approximately 7 miles from the entrance of Presque Isle State Park at a maximum speed of 25 miles per hour. Speeding in the Park is closely monitored and there's a pretty good chance you will get a ticket if you speed.
Bring a camera.
Be prepared for the many photo opportunities.
814-836-0201
http://www.piboattours.com
5. Canadian Sailor Scenic Tour
Similar to Lady Kate, this 35-passenger boat cruise offers a narrated tour of Presque Isle Bay and Lake Erie (weather-permitting).
The major difference between Canadian Sailor and Lady Kate is the location of departure. The Canadian Sailor is docked at Dobbin's Landing at the north end of State Street in Erie. Unless you plan to be at Presque Isle State Park, the Dobbin's Landing location will likely be more convenient for most people. Food and drink are not served on board, but there are several nearby restaurants including The Wharf and The Cove, as well as restaurants on lower State Street including The Tap House and The Plymouth Tavern.
Get tickets for your sightseeing tour or sunset cruise.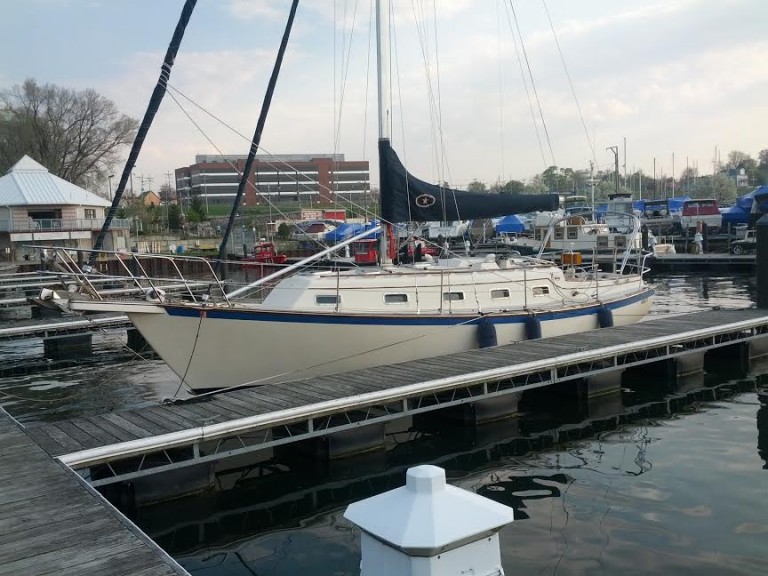 6. Lake Effect Sailing Private Charter
A private sail for your family, friends, or special occasion is more affordable than you might think. Whether you're in town for a vacation, looking for a unique way to celebrate, or maybe even looking for a special way to propose, consider a private cruise for up to six people on this 32-foot cutter with Captain Ed.
For those who are new to sailing or looking to brush up on sailing skills, Captain Ed will show you the ropes (pun intended) and help you learn.  Or, you can also sit back and enjoy the sights of Presque Isle Bay or the Lake Erie skyline while Captain Ed does the work. 
The rate is $50 per hour with a two hour minimum for up to six people. A group of six can experience a private sailing experience for just $100!
To reach Captain Ed Garr:  Call or text (814) 434-0600 or Capt.Ed@LakeEffectSailing.com.
Learn more about Lake Effect Sailing.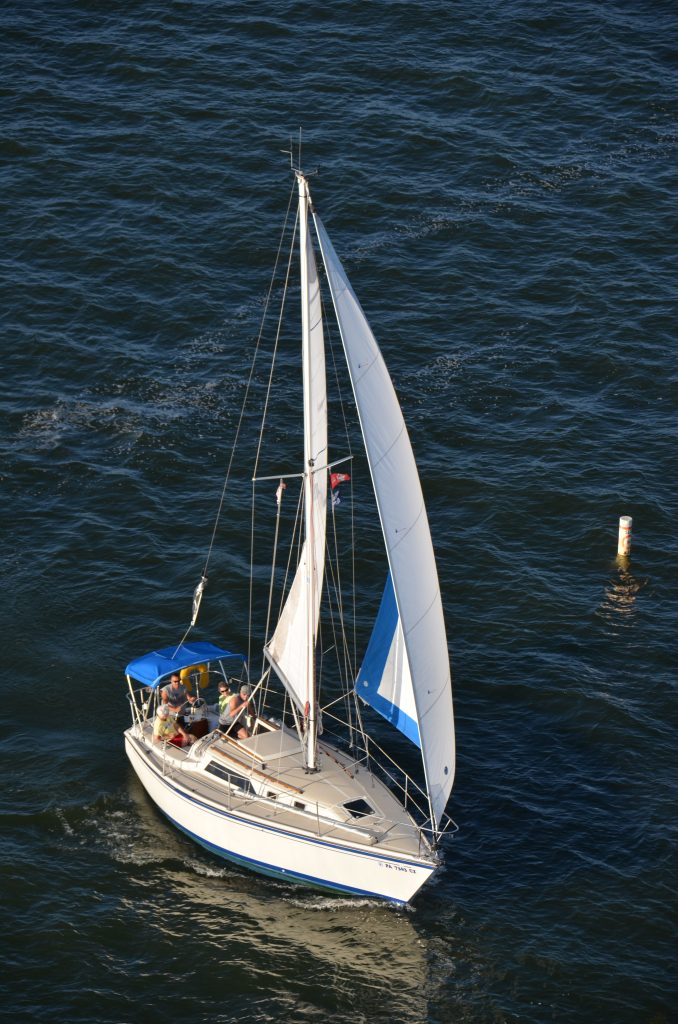 7. Another Round Sailing Private Charter
A second great option for a private sail is Another Round Sailing. This 28-foot sailboat accommodates up to four people. Cruising around Presque Isle Bay makes a great ladies evening out, couples sunset cruise, family sailing experience, or surprise engagement proposal. Captains Mike and Vito offer private sails on Wednesdays (days or evenings) and Saturday days. At $80 for the first two hours and $20 for each additional hour for up to four people, this private experience is very reasonably priced. Learn more about Another Round Sailing.
8. Flagship Niagara Tallship
The Flagship Niagara is the historic tallship that served in the Battle of Lake Erie during the War of 1812. When the Niagara is in her homeport of Erie, Pennsylvania, guests can experience a four-hour day sail on Presque Isle Bay and/or Lake Erie. Guests must be at least 12 years of age.
Learn more about day sails on the Flagship Niagara.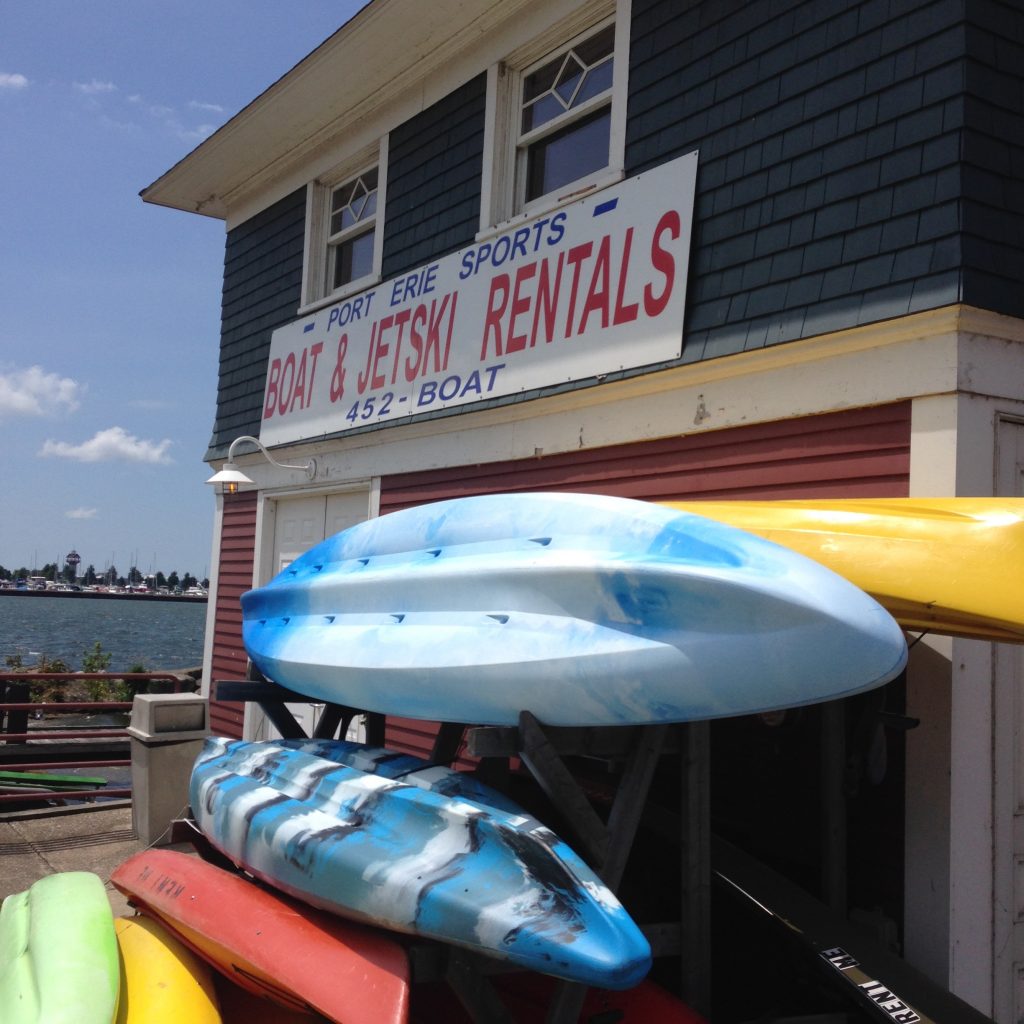 9. Port Erie Sports Boat Rentals
Port Erie Sports offers kayaks, jet skis, pontoon and powerboat rentals on Presque Isle Bay. Their location is just west of Dobbin's Landing along the Bayfront. This is the only provider of jet ski rentals and power boats to my knowledge in Erie. There are multiple providers of kayaks. If you want to kayak in Presque Isle Bay, this is a convenient location to get a kayak. But, if you want to kayak in the lagoons area of Presque Isle State park, check out the Presque Isle Canoe & Boat Livery.
Learn more about Port Erie Sports.
10. Lagoon by Pontoon
The Tom Ridge Environmental Center (TREC) offers free pontoon rides daily through the lagoon area of Presque Isle State Park during the boating season. If you're not familiar with the lagoons, it's a man-made waterway that winds through the interior of Presque Isle State Park. It is a very calm waterway where you will see wildlife, birds, and plant life. Rides are limited to first come first served. Please check the link below for additional details.
Learn more about Lagoon by Pontoon.
11. Presque Isle Canoe & Boat Livery
Presque Isle Boat Rental has a variety of canoes, kayaks, paddle boats, stand-up paddle boards (SUPs), motor boats, pontoons, and row boats for rent. The location is inside Presque Isle State Park about 7 miles from the entrance to the Park and just beyond the Perry Monument. This is a great location for accessing the lagoons or Misery Bay areas of Presque Isle State Park.
The lagoons area is my favorite place to kayak. This is where you'll find the calmest water and the scenery can't be beat. The man-made waterways here are curvy and lined with grasses and trees making for a very picturesque setting. In addition, you'll see wildlife and beautiful birds. What's more, motor boats are not allowed in this area. And, it's even a good place to fish if your small craft is equipped for fishing.
I highly recommend you bring a cooler and plan to picnic or grill right at this location. After you work up an appetite on the water, you'll be super happy you brought your own food. You'll find picnic tables and sturdy metal grills nearby.
Learn more about Presque Isle Canoe & Boat Livery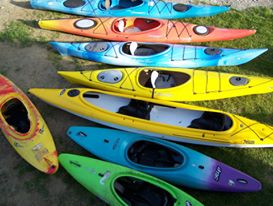 12. Lake Erie Outfitters
Lake Erie Outfitters has a nice variety of kayaks as well as stand-up paddleboards. Plus, the location is conveniently near the entrance to Presque Isle State Park. On the other hand, you'll need to load and transport the kayaks and/or paddleboards if you rent from here. Also consider where you plan to kayak. For example, if you plan to kayak in the lagoons, this is not the most convenient place to rent.
We had a fine experience renting from here. But, the drive from here to the lagoons, where we kayaked, took about 20 minutes. We had to load and unload the kayaks. But, thankfully, we had a pick-up truck and some able-bodied people with us and could manage the transport, loading and unloading. If you are not able to transport, load, and unload, this may not be the outfitter for you.
An alternative place to rent kayaks and paddleboards is the Presque Isle Canoe & Boat Livery. Located right at the lagoons, you can take advantage of your full rental time instead of paying for the time you are transporting, and you don't have to load and unload to kayak or paddleboard in the lagoons.
Learn more about Lake Erie Outfitters.
13. Aqua Cycles
Aqua cycles are a really unique and affordable way to enjoy the water at Presque Isle State Park. This family-friendly activity is offered by the Yellow Bike Co. at Waterworks Pond inside Presque Isle State Park. Waterworks Pond is a smaller inland basin where the calm water is perfect for these tricycles for water. If you're looking to get some exercise while on the water, this may be the option for you.
Learn more about the Yellow Bike Rental Co.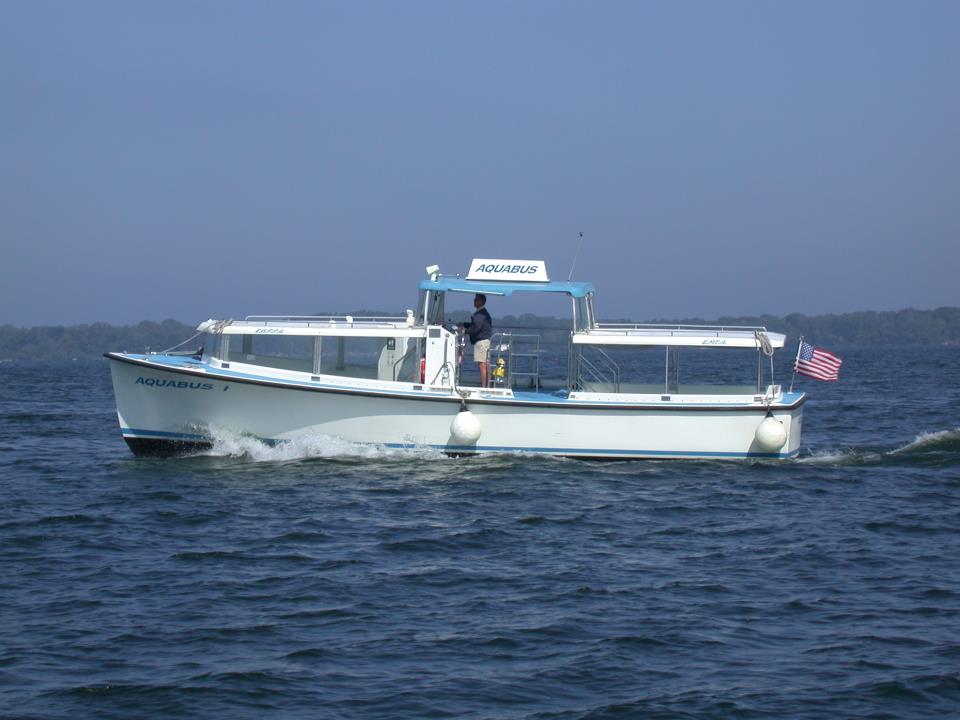 14. Presque Isle Water Taxi
From Memorial Day through Labor Day, the Presque Isle Water Taxi offers a convenient way to travel from Dobbin's Landing in downtown Erie to Presque Isle State Park – and back. This is a convenient service for those staying in a hotel along Erie's Bayfront. The taxi stops hourly at Dobbin's Landing, Liberty Park, and Presque Isle State Park and operates from 10am to 6pm Thursday through Sunday in the summer season.
More info about the Presque Isle Water Taxi
15. Ditch Chicken Charters
Lake Erie is the walleye capital of the world. Not only are walleye a fun fish to catch, they're a great tasting fish to eat! Ditch Chicken Charters accommodates private groups of up to four looking for a walleye or trout charter. 2019 is expected to be an amazing summer for walleye fishing on Lake Erie, following an exceptional year in 2018. The fish have only gotten bigger for 2019. Captain Paul Snyder and Captain Ryan Snyder are experienced on Lake Erie and personal friends of mine. Their departure locations include Walnut Creek Marina in Fairview, Lampe Marina in Erie, or North East Marina in North East, PA, depending on where the fish are hitting.
Learn more about a Lake Erie Walleye Fishing Charter
814-460-0726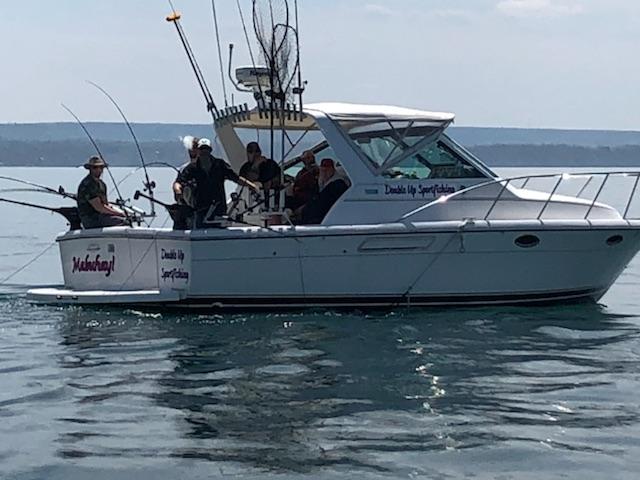 16. Double Up Charters
Double Up Charters accommodates up to 6 people for a private Lake Erie charter. Based in the North East Marina, this location is convenient to my vacation rentals, Clement's Lake Erie Cottages.
Learn more about Double Up Charters.
814-460-0866
17. 'Eye Catcher Sport Fishing
Captain Dan Graziano is a veteran Lake Erie fisherman. IF he has any openings, you will not be disappointed. His 31' Baha cruiser fits up to 6 passengers.
Which option caught your interest?
There you have it. 17 ways to boat on the waters of Lake Erie this summer. If you're like me, when you see the sun sparkling on Lake Erie and the beautiful sails in the distance, you will want to be on Lake Erie. I am not exaggerating when I say that every time I drive by Lake Erie on a summer day, I want to be on the water.
Sun sparkling on the water. Beautiful sails in the distance. The sound of sea gulls. The aroma of cool lake breezes. A summer visit to Erie, Pennsylvania is not complete unless you experience Lake Erie by boat.
About the Author
Lynne Clement is an Erie native and former owner of a 31' Baja fishing boat and former crew team rower, who now enjoys her kayak and waverunner. As the owner of Clement's Lake Erie Cottages, Lynne enjoys helping Erie tourists make the most of their visit.